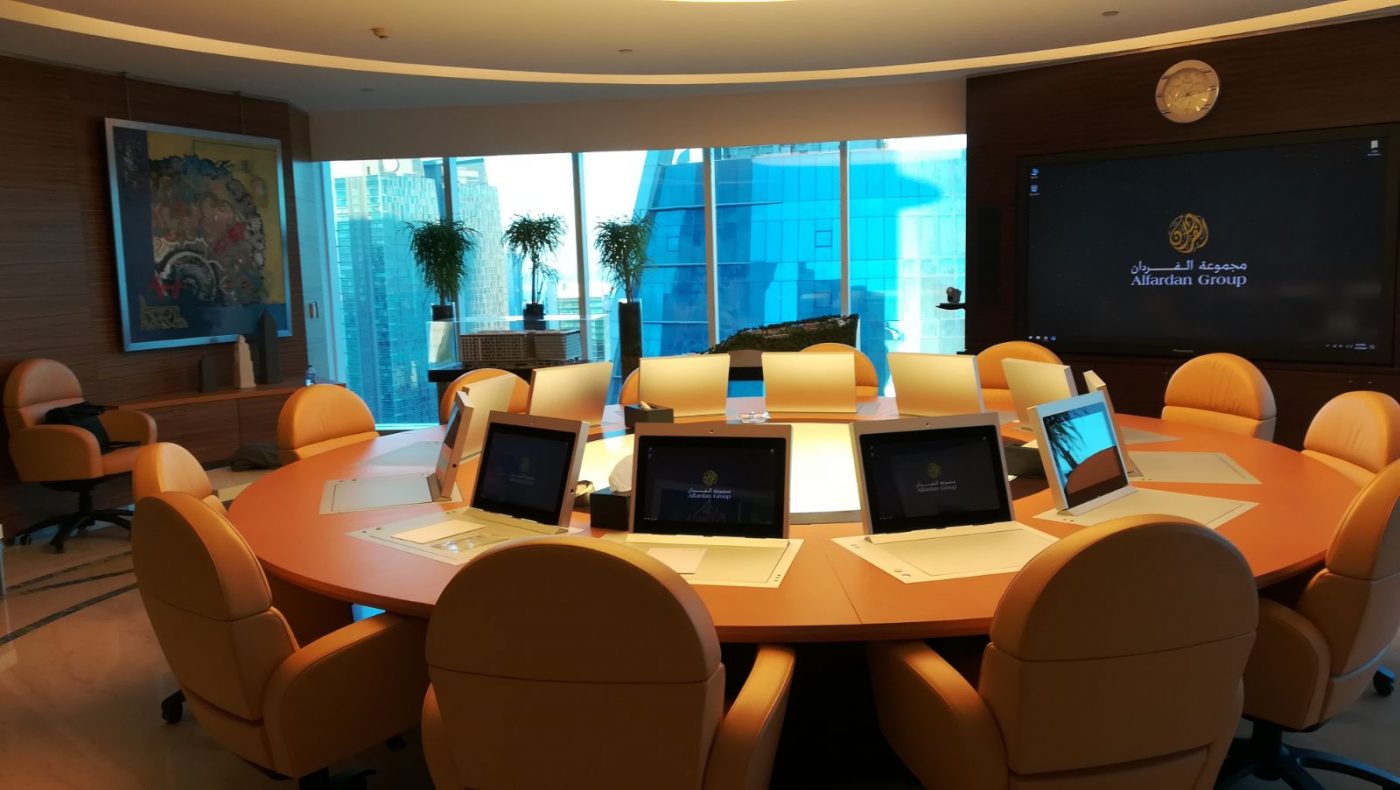 Sede de Alfardan Group en Doha, Qatar
Monitores motorizados Dynamic3 de Arthur Holm en la nueva sala de reuniones de las oficinas centrales de Alfardan Group.
Doha, Qatar. 2018
Sala de Reuniones
La sede de Alfardan Group, situada en Doha, Qatar, ya dispone de una renovada sala de reuniones equipada con 12 monitores motorizados Dynamic3 de Arthur Holm. La sala dispone de una mesa redonda, para facilitar la comunicación y la participación en las reuniones y se eligieron los monitores Dynamic3 para fomentar la flexibilidad del espacio, de manera que la mesa se puede utilizar con los monitores en diferentes posiciones: integrados planos en la superficie o bien elevados con veinte grados de inclinación. Asimismo, la incorporación de una cámara HD-SDI permite la integración en un sistema de videoconferencias. Un conector USB situado en la carátula permite a los conferenciantes el acceso a los ordenadores. Se ha añadido también un micrófono en la propia carátula del monitor. Todo ello resulta en una solución personalizada, multifuncional e inspiradora que se integra a la perfección en el diseño interiorista de la sala.
El proyecto ha sido desarrollado en colaboración con nuestro partner Techno Q, un integrador de sistemas situado en Qatar y líder del sector con más de 20 años de experiencia en el diseño, instalación y mantenimiento de proyectos audiovisuales y tecnológicos.
Monitores motorizados Dynamic3
Los elegantes monitores Dynamic3 de 17" instalados en el edificio principal de Alfardan Group están fabricados en aluminio e incluyen pantalla táctil de cristal antirreflejante, con un contraste excelente y unos ángulos de visión insuperables. La pantalla se eleva y se inclina, rota 180º y se pliega, integrándose en la superficie de la mesa con dos posiciones posibles, con el monitor orientado hacia arriba o hacia abajo. Además, estos monitores motorizados Dynamic3 han sido personalizados con micrófonos AKG y funcionalidades como conexiones USB y cámara HDSDI.
Built entirely of aluminium and black edged anti-glare glass, the Dynamic3 monitors offer discreet and timeless design. The anodised finish provides a soft, silky effect, is extremely resilient and also serves to dissipate heat. The glass protects the screen, reduces "mirror" effect, allows for natural transparent colour and can work as a touch surface. The Dynamic3 range provides excellent contrast and unsurpassed viewing angles. Integration into furniture is extremely simple. The system is unique not only in terms of aesthetics but also in terms of functionality; the screen rises and leans, has an additional 180° rotation movement, and retracts inside the work surface in two different positions, with the monitor oriented up or down. The touchscreen can be used in a completely flat position, flush with the work surface. Its sophisticated electronics automatically detects the screen position, orienting the image accordingly and the screen's lifting system automatically activates the elevation of the keyboard and mouse tray. Please check this integration including camera and USB charging connectors.

Posted by ArthurHolm on Thursday, 29 March 2018
Sobre Alfardan Group
Alfardan Group es conocido por la gran calidad de sus productos y servicios y por su alto potencial de innovación, siendo una de las empresas más importantes de la región. La división principal de Alfardan es la joyería, pero también participa con éxito en los sectores de inmobiliaria y hostelería, automoción, cambio de divisas, servicios marítimos e inversiones bursátiles.
El objetivo de Alfardan Group es ofrecer productos y servicios de un lujo superior, con los más altos estándares de calidad y excelencia, además de mantenerse como líder de mercado. Su finalidad es satisfacer las demandas de los clientes y superar sus expectativas, un fin por el que también trabajamos en Arthur Holm. Compartimos esta búsqueda constante de la innovación y la calidad y así podemos crear proyectos fascinantes con la última tecnología como esta nueva sala de dirección de Alfardan.
Products applied to this project