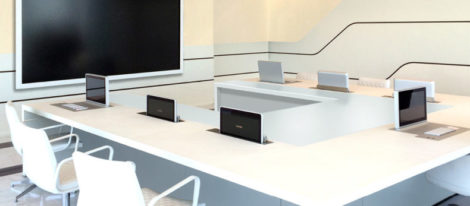 The workplace of the foreseeable future (yes, that includes right now!) is shaping up to be a completely different environment to anything experienced before. The traditional idea of the office is dead, and companies realise they need to adapt to a new world of comfortable shared, open spaces. Last time planners and architects tried this approach was in the 90s, but back then the idea of shared spaces was a failure, mainly due to the lack of technologies to support them.

A busy office from the 1960s.
Now, with the combination of modernity, mobility and millennials the advent of sharing, cooperation and coexisting is here to stay, with technology and trends to facilitate. Immediate internet connectivity for mobile phones, laptops, and devices combined with the expectation of being constantly connected, make it vital for planners and designers to create small, efficient and attractive workspaces within the workplace.
For planners and designers, a variety of factors contribute to redefining the workplace. Points to consider are:
-Teamwork spaces
-Evolution of work modes
-Sharing, Cooperation, Coexisting
-Unique spaces, innovative solutions
Planners and designers understand that to make a dynamic, smart and usable workplace for everyone, it's essential to create a series of spaces in various sizes, some fully equipped, some informal, depending on different functions and needs. This means in-depth analysis of the company's requirements, activities and space usage, resulting in the choice of materials, furniture and their set-up, now shift towards flexibility, comfort and easy rearrangement.

A private "pod" working station.
Brand-new spatial classifications have evolved with the focus on brightening up the workstation, moving noisy and disturbing activities away from open-plan areas, as well as creating harmony for those projects that demand peace and privacy. This being the case, the work area is no longer restricted to the desk, but the entire environment composed of the personal position with a set of dynamic interacting spaces around it. By ingenious use of materials and fabric the "public" spaces (larger collaboration meeting areas) can be differentiated –but still connected– from the "private" spaces (workstations, small huddle rooms, buffer spaces), to form a cohesive and comfortable work environment for large groups right down to individuals. The focus on ergonomics, high quality, trendy but functional materials, modular and transformable design is key for closer connection for both humans and technology!

Chair work space.

As an example, a micro-space (like a cosy phone booth) is lined with sound absorbing material, and invokes privacy, for phone calls and emails. Small spaces can be equipped with movable tables, for easy interaction and adaptability. In this set up, the user would likely bring their own devices. Moving on to medium sized spaces, for 4 to 6 persons, these could be more structured with high tables equipped with technology, the intention is for standing meetings, and here technology takes on a larger role with monitors, microphones, video and connectivity. Finally, in the largest spaces for up to 20 people, the focus is on informal furnishings and tactile writing surfaces for hands-on working, brainstorming, and inviting people to interact in a friendly and creative way.

Different areas for smaller informal meetings.
In an economy driven in part by collaboration, the focus should be on creating physical spaces that encourage human connection. And the importance of technology is key, introducing new ways of cooperation and interaction via the integration and inter-operation of different systems, and depending on the space size, how technology is used. In this way, Arthur Holm is focused on driving smarter and innovative products into the meeting room workplace to ensure the collaborative, conferencing experience is the best it can possibly be.

The importance of ergonomic lines, materials and colours.

Arthur Holm monitor neatly integrated into the meeting room furniture (Ministry/Angola).