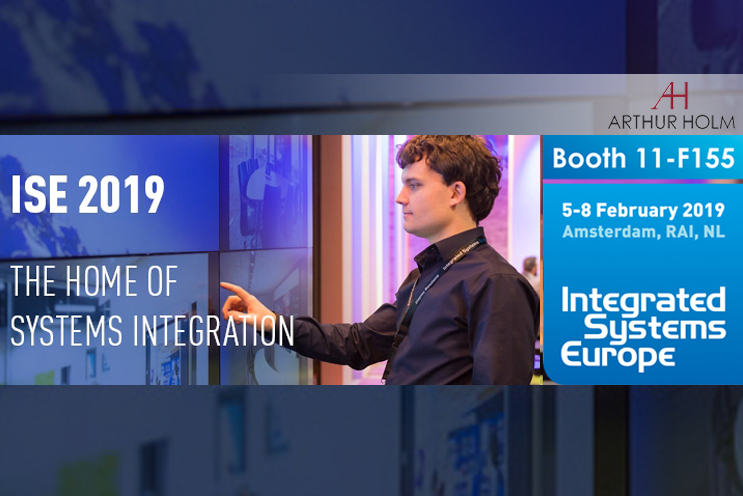 Arthur Holm is presenting an impressive new collection of amazing products for huddle and meeting rooms, boardrooms and reception areas at the 2019 Integrated System Europe exhibition. Come to discover them!
Creating effective workspaces has become an obsession for Arthur Holm. We focus on combining the latest AV technology with attractive design to create an astonishing end user experience. Arthur Holm products help to transform corporate environments and shape the welcoming areas and meeting spaces of the future.
Technology becomes beautiful and it is perfectly integrated in the interior design whether it is used to welcome customers, to make decisions or to increase efficiency and even sustainability.
Productivity and innovation aren't achieved only through connectivity and flexible workspaces or video conferencing and collaboration technology, but also by enhancing the workspaces and public areas improving the user feel, from the most influential meeting rooms to every space in the corporation, from the smallest huddle area to the reception desk. Functionality isn't enough, looking good isn't enough. What about finding the perfect balance between usefulness, design, flexibility and performance?
These are the NEW Arthur Holm product launches at ISE 2019:
Need to bring top quality audio to the table? We have a revolutionary solution.
We don't want to say much, we'd rather have the opportunity to show you our new DynamicSpeaker personally. Please contact us and we will be delighted to demonstrate this ingenious, elegant and space optimising solution.
Come to discover a state-of-the-art technology device comprising a motorised loudspeaker for desk integration: a compact, omnidirectional 360 degrees Class-D active speaker, two way coaxial driver, integrated DSP technology. The system is controlled via AHnet and also thorugh AHDynamicAirConnect: a new wireless App for control and setup.
The DynamicTalkB is a motorised solution to hide microphones within a desk. It is easy to integrate and use, with an extremely silent and smooth movement. It is remotely energised via PoE-Ethernet and the new wireless app AHDynamicAirConnect. The microphones can be safely stored in boardroom and meeting room tables as well as in huddle rooms and in multi-purpose spaces.
The system is activated by pressing a capacitive touch button: the cover rotates and the microphone appears as it is elevated up to its right position. It offers an intuitive and easy to operate control, which can also be managed by the AHnet control protocols and through a wireless interface set-up.
The DynamicCableRetract is a motorised retractable cable patent pending solution: elegant, silent and easy to integrate for many cable standards. The DynamicCableRetract can be locally or remotely controlled and it is equipped with a security system.
The DynamicX2 monitor is combined with an automated keyboard and mouse, creating a motorised automation system that lifts the keyboard and mouse at the same time the monitor is being raised. This combination offers the best possible quality Full HD screen with an elegant keyboard and mouse storage that converts into a work station by just the touch of a button. The cover plate can be veneered to conceal the finish of the table.
New motorised adjustable reception monitor for a perfect fit. Quick motorised adjustment to match each individual needs when working to create a correct and preferable work environment at the front desk.
The DynamicReceptionMonitor has been designed to be integrated in tables or desks. The base of the monitor is installed on the surface and its connectivity is placed below the table, making the installation clean and minimalistic.
The elegant monitor housing is made of milled aluminium and stainless steel and it includes an antiglare protection glass with black marking. The stainless steel rotary arm of the monitor offers a motorised adjustable height for a perfect fit.
ERT60 with AHDynamicAirConnect
The new ERT60 is an IP interface to RS422 with two AHnet ports Interface. It provides an easy and practical system to control and setting up the motorised Arthur Holm products. The ERT Interface helps to lower the installation costs of both equipment and time. The system is easy to install and cable. The new AHDynamicAirConnect allows to manage control and set up functions from your mobile device. It enables faster installation and eliminates the need for external relay boxes and extra power outlets.
The AHnet60 Software makes the control of your motorised Arthur Holm products very simple, with clear screen instructions. The new ERT provides control up to 60 devices.
Interested in a guided tour? Contact us here.