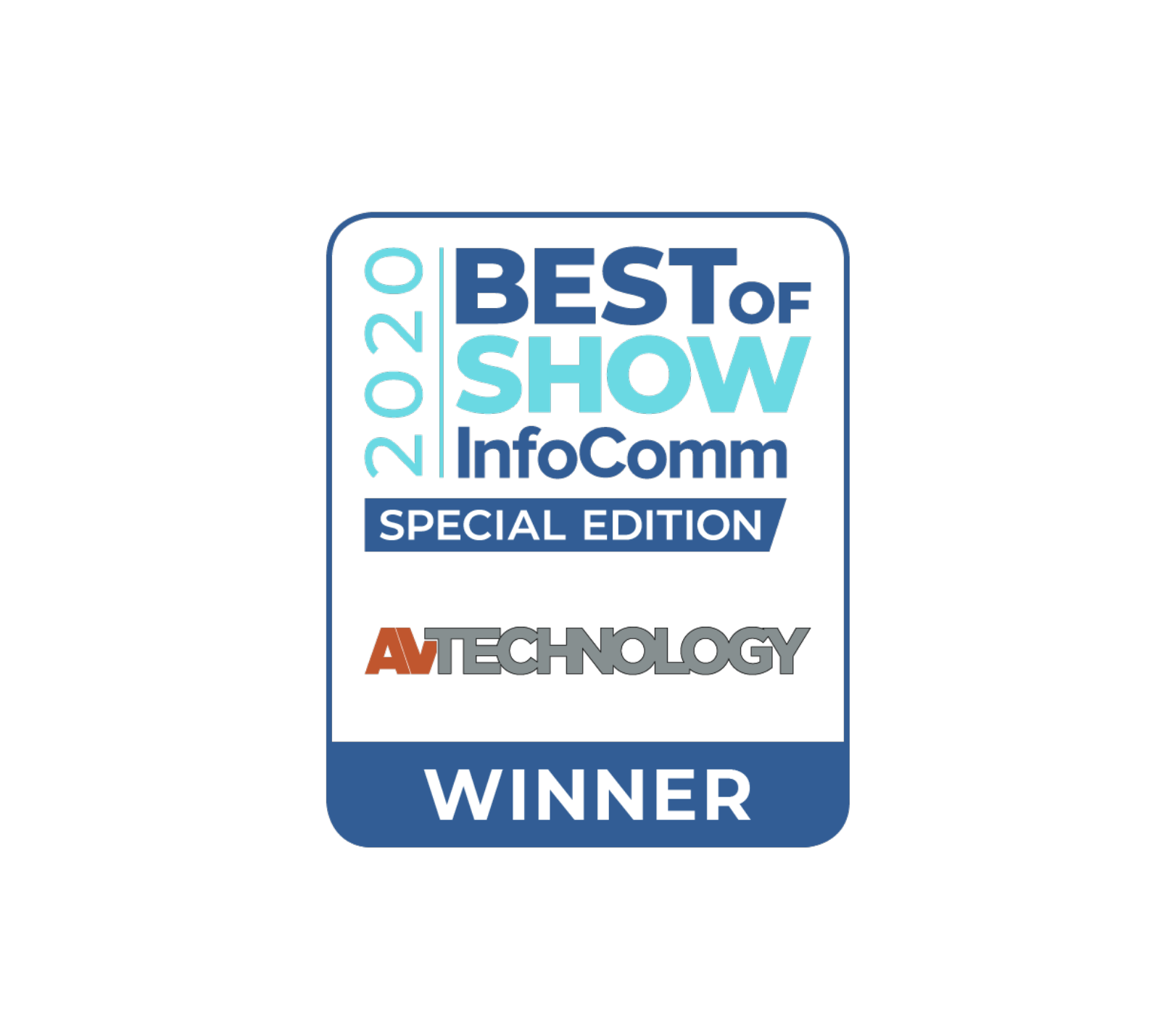 LAS VEGAS —  Arthur Holm's Dynamic4  is a recipient of the 2020 Future Best of Show InfoComm Special Edition Award by AV Technology.
Future's Best of Show Awards are evaluated by a panel of engineers and industry experts, and are selected based on innovation, feature set, cost efficiency and performance in serving the industry.
Winners receive an award for display and will be featured in AV Technology, the leading industry resource for AV/IT technology managers.
All nominated products are featured in the special Best of Show Awards Program Guide, to be distributed in digital edition form to more than 100,000 readers of AV Technology, Digital Signage, Installation, Government Video, Pro Sound News, Sound & Video Contractor, and Tech & Learning.
About Dynamic4:
Dynamic4 has been designed to be integrated into huddle tables. It allows the users to convert a neat standard table surface to a complete working solution providing the latest multimedia technology. Four high resolution monitors will appear from the interior of the desk in a streamlined position. The mechanism allows the deployment of the monitors forming a square or a diamond figure and to rotate in order to find the most convenient position for the users.  It is the technology that adapts to the user and not the other way around! The atendees can keep face to face communication without having to look to a wall. They can keep track of the non-verbal communication while having the latest technology for visualisation and conferencing.
The mechanism can be activated by push buttons, RS422, GPI or remotely by a wireless app. Inside the enclosure there is  a lifting platform that allows the users to have a complete table top multimedia system, consisting in screen, microphone, camera and spakers. The unit provides two motorised covers which open downwards to allow the lifting platform to rise from inside.
The user can:
– Open the display system by moving from a diamond shape to a square one
– Close the display system back to the diamond shape
– Rotate the system
This system is designed to optimise:
1.- Small working space -> D4 is a flexible system which is capable to adapt small workplaces  to a comfortable space for a teamwork of up to 8 persons creating a natural meeting position for all participants facing towards the centre of the table with the aim to achieve a more natural environment for video calls and presentations.
2.- Unit's architecture -> D4 allows to have just one device to operate and do what until now could be done for a similar use with 4 different units.
3.- Work environment adaptation -> D4 adapts to the best layout depending on the workbench where it has been integrated, as well as the desired working mode, because it can be used for individual or teamwork interaction.
Dynamic4 is an all-in-one solution. Users just need to add power to the table and they will have a complete solution consisting on 4/ professional 17" Full HD-monitors, 2 speakers (2×60 W each, omnidirectional) , 4 webcams (5 megapixel, 720 p), 2 array microphones (each array consisting on 3 microphones), USB connectivity and power and 2 retractable HDMI cables. The system has an internal CPU so it can be used with any collaborative platform.
"I'm honored once again to be able to congratulate our winning manufacturers for their outstanding bounty of innovation," said Matt Pruznick, editor of AV Technology. "The strengh of this year's field is a salient barometer of the health of our industry. Amid all of the uncertainty in today's world, one only need look at these shining examples of engineering for reassurance. It is with the utmost pride that I present these awards to 2020's best of the best."
The jury's quote:
The Dynamic4 by Arthur Holm might just be the most innovative huddle room experience created. If you're looking for a product that will set your in-person client or employee user experience apart, Dynamic4 will certainly be an AV experience they will remember.
Thank you so much!