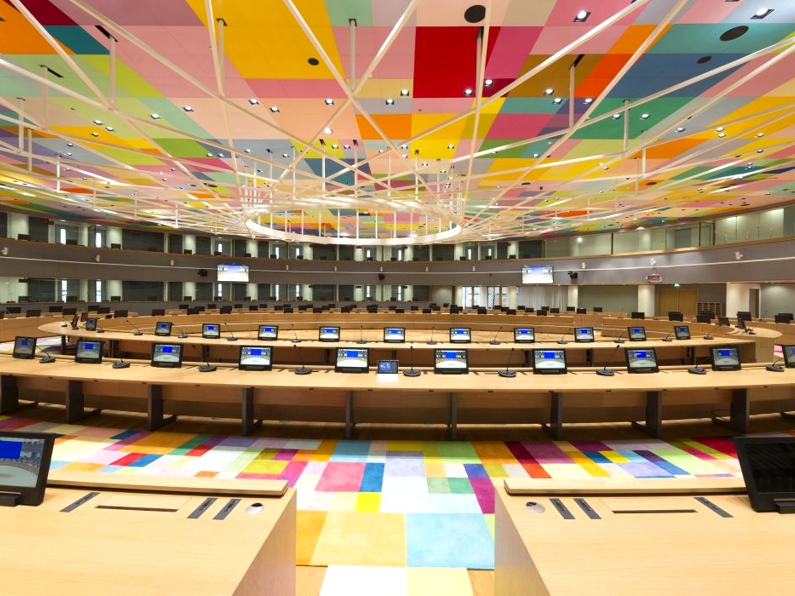 A custom version of Arthur Holm´s AH2 monitor has been selected for the Residence Palace building in Brussels. This elegant monitor provides an angle tilt of up to 110 degrees and has the unique feature that the screen can be manually folded down. It has been designed for table top installation allowing for maximum space underneath the desk, giving users the comfort of ample leg room below the desk.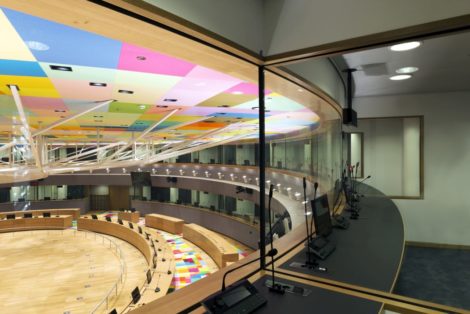 The installation is clean, without any visible cable. AH2 have been specially designed for easy integration into standard furniture, with compact and stylish elegance. The monitor is entirely built of solid, milled aluminium with anodised finish (black coloured in this case) and has anti- reflection black edged glass that can be multi-touch screen (optional). The 17.3" AH2 features a Full HD panel, is HDCP compliant and it is energy efficient.
The Europa building responds to the specific needs of the Council and the European Council, providing the necessary level of security, and reflects the concept of sustainable development (both in the materials and technologies used).
The Residence Palace, a fine example of Art Deco, was built between 1922 and 1927 by the architect Michel Polak. The project includes apartments and related facilities.
After the Second World War, the building was converted into offices for several Belgian government departments. In 2004, the original facades of the Residence Palace, the entrances and the central ground-floor corridor of block A were listed.
The innovative design retains the historical part of the long standing Residence Palace block A, and builds onto it. Two new glass walls transform the original L-shaped building into a cube. Inside the cube, a lantern-shaped space has been created, with elliptical floors varying in size. This lantern will be most visible from outside the building when lit.
The floors, ceilings, doors and lift-shafts feature work by Belgian artist Georges Meurant, in the form of combinations of coloured squares.
This approach to sustainable design is combined with the use of technology to ensure an environmentally friendly and efficient use of energy:
A surface of solar panels covers the entire top of the building, a system of rainwater collection and storage supplies the sanitary facilities lighting, humidity and temperature is regulated inside the building by highly efficient energy-saving technical equipment and the analysis of the structure of the façade has been optimised allowing to reduce the amount of steel by 30% compared to a traditional solution.