Hotel Kempinski in Dubai
Customized DynamicX2 monitors with DynamicShare integrated creating a collaborative conference room
Dubai, UAE. 2019
Conference room
Users of this meeting room in Kempinski Hotel had the need to share information in an easy, straightforward and secure way. Meeting participants wanted to share video files and documents from different sources without the need to install any software or external devices. Furthermore, the room needed audio reinforcement and required non-intrusive technology, capable to he hidden when not needed, so the table could be used for other purposes too. Additionally, meeting participants had the need to interact via touch screens and there was not a dedicated technical room.
Arthur Holm succeeded to provide the solution inside the table itself. The different inputs could be shared in an intuitive and easy way, without any software licenses and without having to install any external devices. The solution consisted in a DynamicX2Talk touch monitor customized with DynamicShare. Two push buttons on the monitor cover plate allowed meeting attendees to view their contents and share them among the rest of monitors. All delegates were able to share local computers with the rest of participants just by clicking the share buttons.
This project has been developed by Arthur Holm's partner Venuetech, distributor of AV and control solutions offering an expert technical support, in cooperation with Tectronics UAE systems integrator.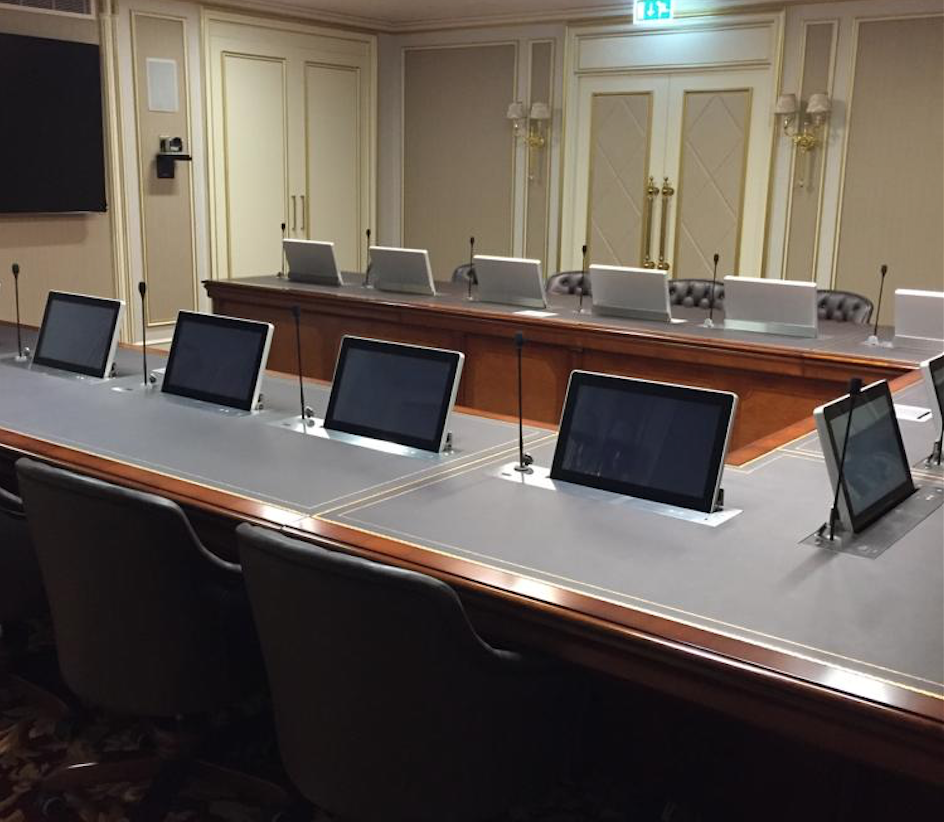 About DynamicShare
DynamicShare is a smart solution that allows meeting room participants to share different video sources among each other with an optimal video quality (zero frame latency) and it doesn't require a specific training, technical knowledge or assistance.
It is a software free share system that provides quick and seamless connectivity with a high level of security. The meeting or conference table can stand alone, without the inconvenience of either messy cabling or having to integrate external devices.
The DynamicShare also optimises the cabling and installation in a conference or meeting room, auditorium, court room or any type of facility where there is a need to share information from different sources. It is available in 2 versions: DynamicShare standard and DynamicShare stand-alone.
DynamicShare standard is integrated in the monitors, providing up to 3 HDMI inputs and one output. It allows the HDMI signal to be shared on up to 20 monitors in Full HD resolution. The control protocols for the monitors movements are also embedded into the HDMI signal, simplifying the overall cabling. The cover plate of the monitors allows the user to switch between different inputs, select one and view or share it with the rest of monitors connected in a loop topology.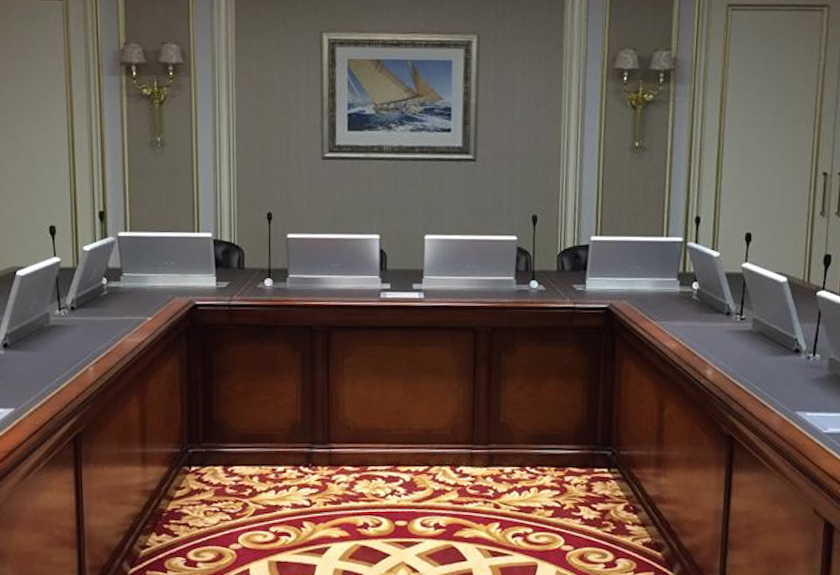 Products applied to this project