After the cancellation of InfoComm show in Las Vegas and Infocomm South East Asia in Bangkok, we are focusing on preparing the 2021 editions.
The last exhibition that we attended was ISE 2020 that took place at the RAI in Amsterdam on 11-14 February. Despite the threat of COVID´19, ISE2020 suceeded to gather around 52,000 attendees and we were thrilled with those who showed. Quantity was down, but the quality was up and paradoxically, we had more time to dedicate to those who came. It was indeed an amazing show and we are already preparing Barcelona's one.
Arthur Holm received 2 Best of Show awards for Dynamic4 and we were consired among the top 10 products from rAve.
https://www.ravepubs.com/heres-a-breakdown-of-my-top-10-from-ise-2020/
The Best of Show awards are designed to recognise achievement in product innovation and service development at ISE 2020, the awards take into account factors such as general quality and relevance of the product; design and build quality; business/operational benefits; innovation in concept/design/delivery; technical excellence; cost-effectiveness; game-changing ability.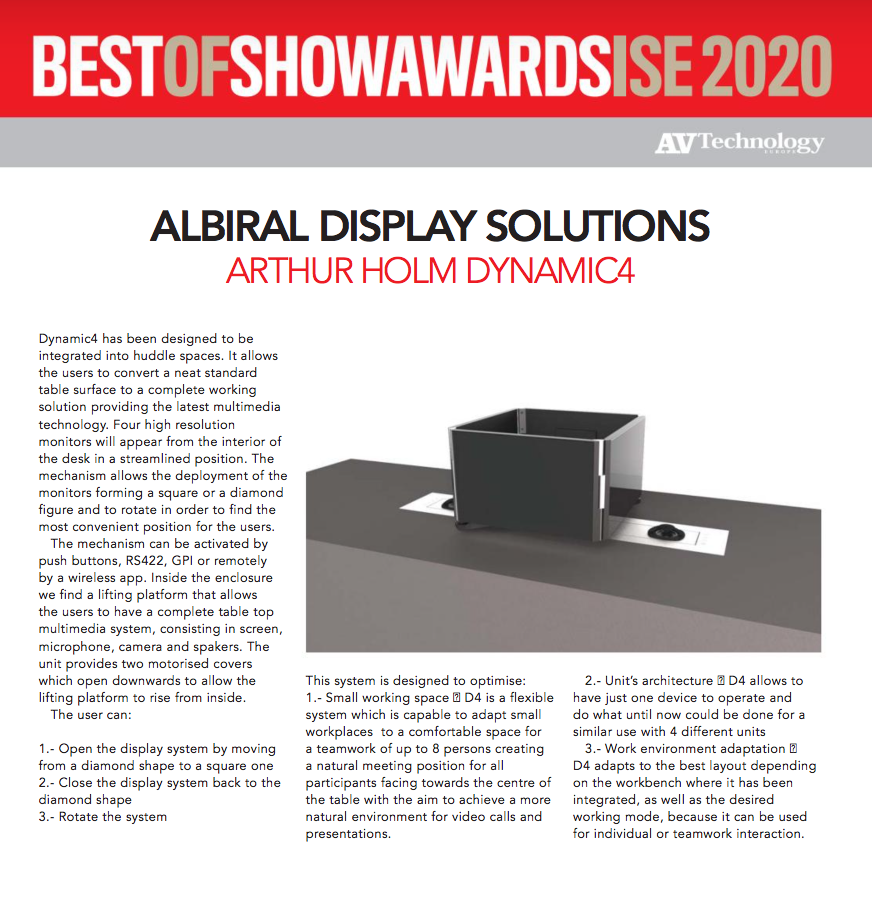 All nominations were reviewed by a panel of independent industry experts at the show and each nominee received a stand visit from a judge who got hands-on with the products before returning their verdict.
We would like to thank all visitors and we are really grateful for the awards.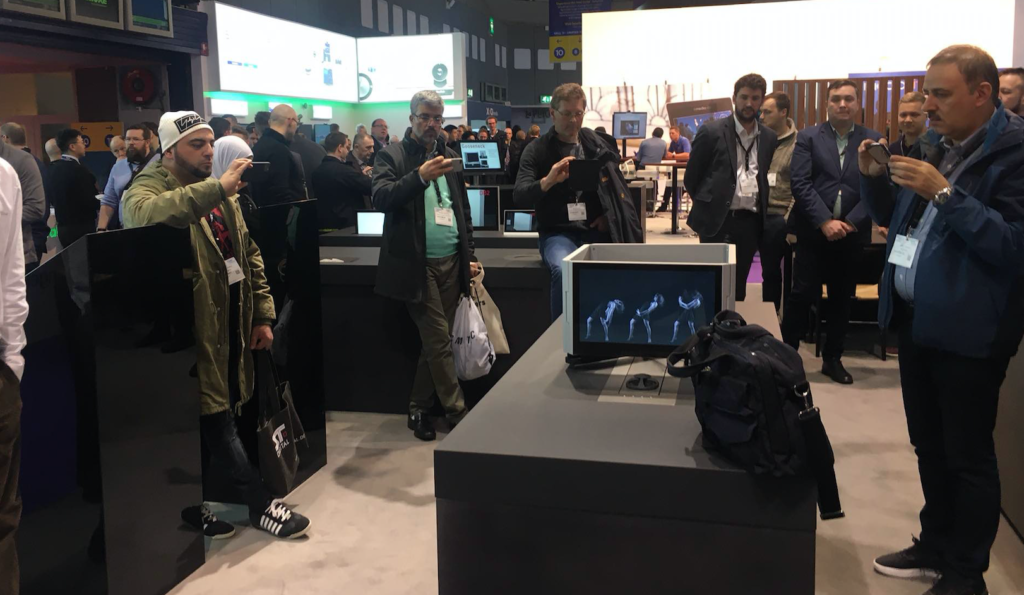 Dynamic4 has been designed to be integrated into huddle spaces. It allows the users to convert a neat standard table surface to a complete working solution providing the latest multimedia technology. Four high resolution monitors appear from the interior of the desk in a streamlined position. The mechanism allows the deployment of the monitors forming a square or a diamond figure and to rotate in order to find the most convenient position for the users.
The mechanism can be activated by push buttons, RS422, GPI or remotely by a wireless app. Inside the enclosure we find a lifting platform that allows the users to have a complete table top multimedia system, consisting in screen, microphone, camera and speakers. The unit provides two motorised covers which open downwards to allow the lifting platform to rise from inside.
Users can:
1.- Open the display system by moving from a diamond shape to a square one
2.- Close the display system back to the diamond shape
3.- Rotate the system
This system is designed to optimise:
1.- Small working spaces -> D4 is a flexible system which is capable to adapt small workplaces  to a comfortable space for a teamwork of up to 8 persons creating a natural meeting position for all participants facing towards the centre of the table with the aim to achieve a more natural environment for video calls and presentations.
2.- Unit's architecture -> D4 allows to have just one device to operate and do what until now could be done for a similar use with 4 different units.
3.- Work environment adaptation -> D4 adapts to the best layout depending on the workbench where it has been integrated, as well as the desired working mode, because it can be used for individual or teamwork interaction.
A huge thank you once again.