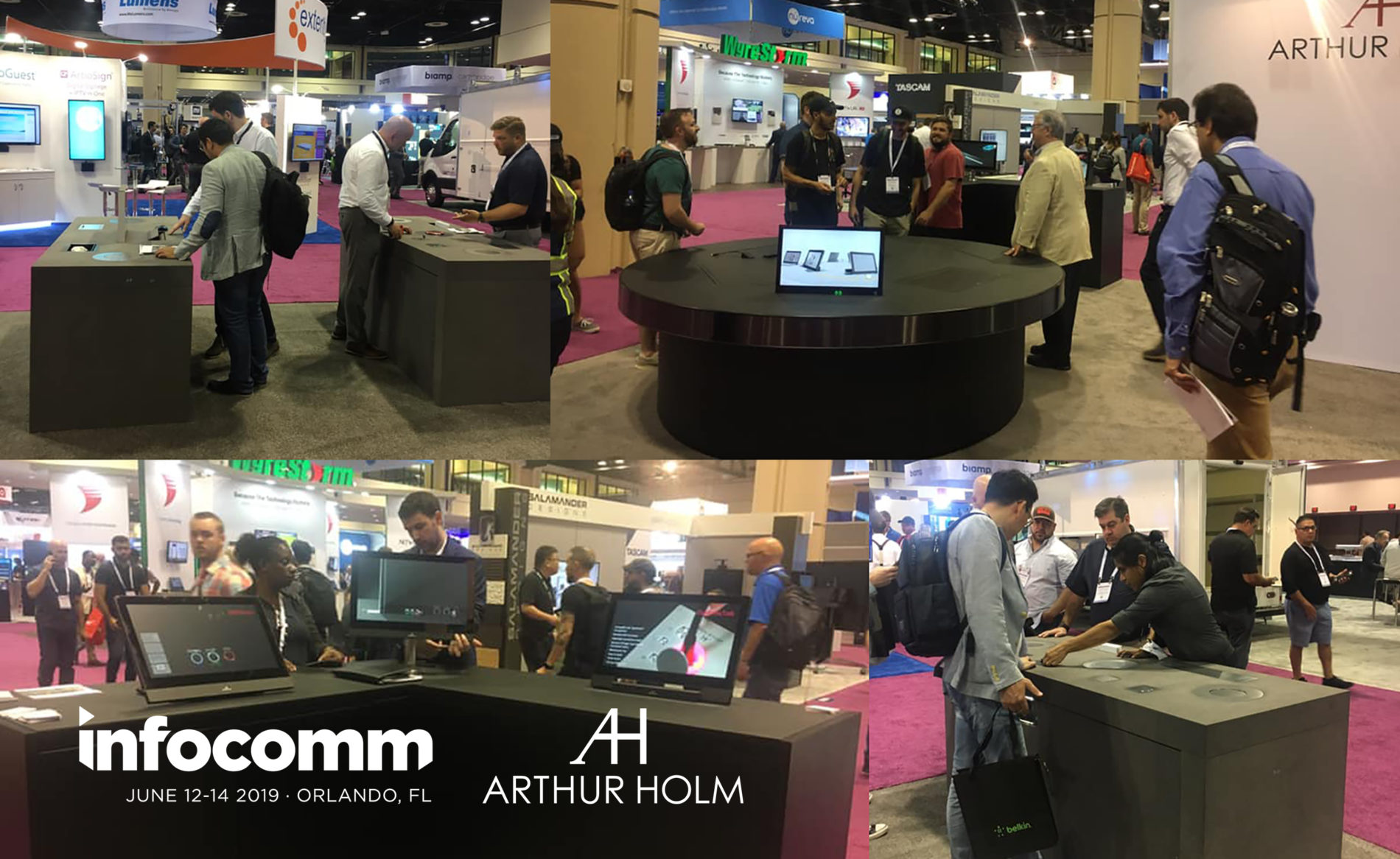 We hope you have enjoyed visiting our booth at InfoComm 2019 Orlando! We are delighted to say it has been a great show and we truly appreciate you came around to know our latest innovations for meeting and conference rooms, reception areas, co-working spaces and huddle rooms.
This exhibition was the perfect opportunity to present our new solutions to the American and Latam markets, showing how we can create flexible and space optimising rooms that become the inspiring and collaborative workspaces of the future.
Arthur Holm systems are focused on offering hi-tech products together with an amazing design, providing and elegant and smart technology that can be hidden when not needed, creating unique meeting spaces that generate an extraordinary and memorable user experience.
---
Did you like the products seen at InfoComm 2019?
Have a look again at our latest solutions!
DynamicSpeaker
The awarded DynamicSpeaker is a motorised loudspeaker that will amaze any meeting participant. It combines an impressive design together with top sound quality, becoming an ingenious space optimising solution that can be hidden inside the table when not in use.
Watch DynamicSpeaker live at InfoComm here!
DynamicTalkB
An innovative motorised lift system integrating a boundary microphone,  DynamicTalkB helps optimising the desk space while providing the best audio technology. Its patented mechanism allows the microphone to emerge from the table with a smooth and silent movement, also getting a seamless integration with the surface.
Watch DynamicTalkB live at InfoComm here!
DynamicReceptionMonitor
The best first impression when entering a reception area! The additional motorised movement of the monitor allows a personalised adjustment for a perfect fit at the front desk.
Watch DynamicReceptionMonitor live at InfoComm here!
DynamicX2KM
The retractable DynamicX2 monitor integrates now a motorised system for keyboard and mouse, becoming a beautiful and convenient work station at just the push of a button.
Watch DynamicX2KM live at InfoComm here!
But there is much more on the way! We keep working hard to bring our customers exceptional solutions to create outstanding workspaces.
Contact us to discuss your ideas and we will give a boost to your project!