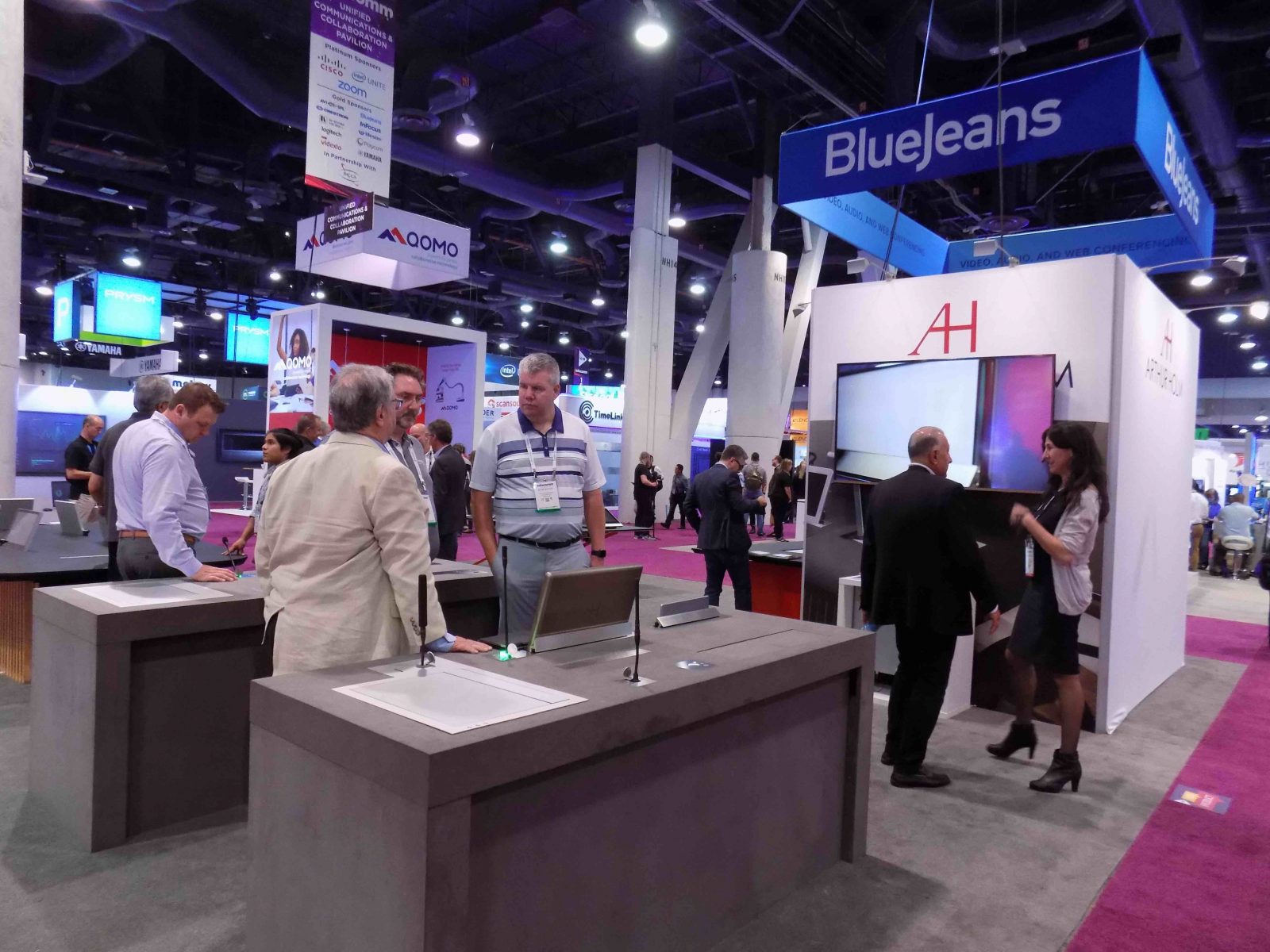 InfoComm 2018 Las Vegas is already over and we at Arthur Holm would like to give a huge thank you to all those who visited us and experienced our systems and solutions for boardrooms, meeting rooms, auditoriums and reception areas. This year's show closed with nearly 43,000 attendees, 10% more than the 2017 exhibition and we did our best to show you how Arthur Holm is shaping the conference room of the future!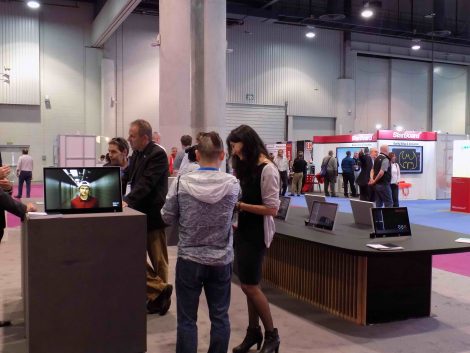 We know there was a lot to see and we were really happy to hear the visitors "wows" triggered by our products. We would like to share some highlights with you.
The awarded DB2Share
At InfoComm 2018 we were showing a meeting room table integrating six DB2Share motorised monitors and we were demonstrating how easy and safe is sharing video contents with them. Besides this, DB2Share displays need a minimum space on the table desk and integrate a smart retractable HDMI cable system.
Video – Discover how DB2Share works directly from our booth!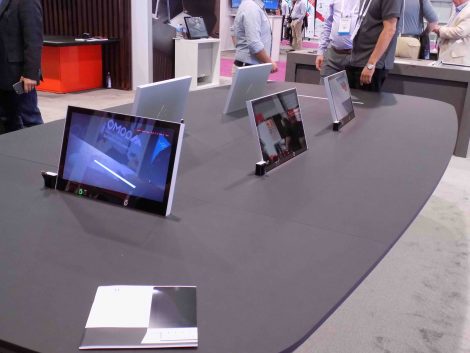 A variety of retractable technology to be veneered
Dynamic3 ready to be veneered, DynamicTalkUnderCover and DynamicX2 UnderCover were also on display at Arthur Holm's booth.
Flexible spaces, automated technology, invisible integration within the boardroom furniture, synchronisation of movements… All these aspects were taken into consideration when we created the patented UnderCover technology. UnderCover is an ingenious but simple solution of an integrated and synchronised automated cover plate able to conceal perfectly the complete range of vertically retractable monitors by Arthur Holm.
The patented mechanism of the motorised cover enables the monitor to be concealed neatly beneath the furniture with the simple touch of a button and to be controlled remotely. UnderCover hides stylishly inside the furniture to let the monitor rise up. This system can also be used with "gooseneck" microphones or connectivity options such as channel selectors, voting features, speakers, power sockets or RJ45, HDMI and USB connectors.
Video – DynamicTalk UnderCover directly from our booth!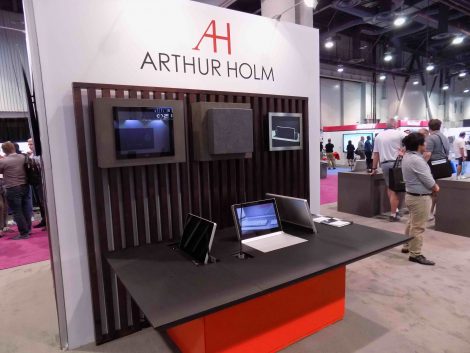 The prizewinning DynamicX2 BarConnect
DynamicX2 retractable monitor is combined with BarConnect, a motorised, retractable connection system. This combination offers the best possible quality Full HD screen and personalised connectors options like HDMI, power USB, RJ45 USB and power outlets. The ergonomic angle of the bar enhances comfort and usability. A safety mechanism stops the system in case of obstruction. The design is simple, with just 4 operation buttons. It is intuitive and easy to install. It offers cable management, improved table space and a neater environment.
Video – Watch DynamicX2/BarConnect directly from our booth!
The unique Dynamic3Reverse
The Dynamic3Reverse motorised display is a unique foldable monitor with a 18,5″ touch screen. It can work in horizontal and vertical positions, its tilt angle can be adjusted at any point from 0 to 90° and it rotates to fold down.
Video – Dynamic3Reverse directly from our booth!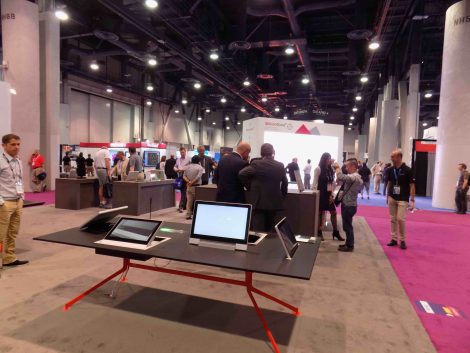 Besides all these smart products, we also presented a wide range of manually foldable monitors, motorised retractable solutions for all type of microphones, a motorised system to hide tissues and other objects and DynamicVision, a solution to hide videoconference cameras in conference rooms.
And we also had time to have fun at the "Alegría" party! Music, mojitos and networking in a fantastic Latin party.

Thank you all once again!
Did you like our ideas at the show? A sales representative will contact you again to discuss your particular needs for board, meeting and conference rooms.
If you didn't have the opportunity to talk about your project with us but you would like to exchange thoughts, just contact us at marketing@arthurholm.com.