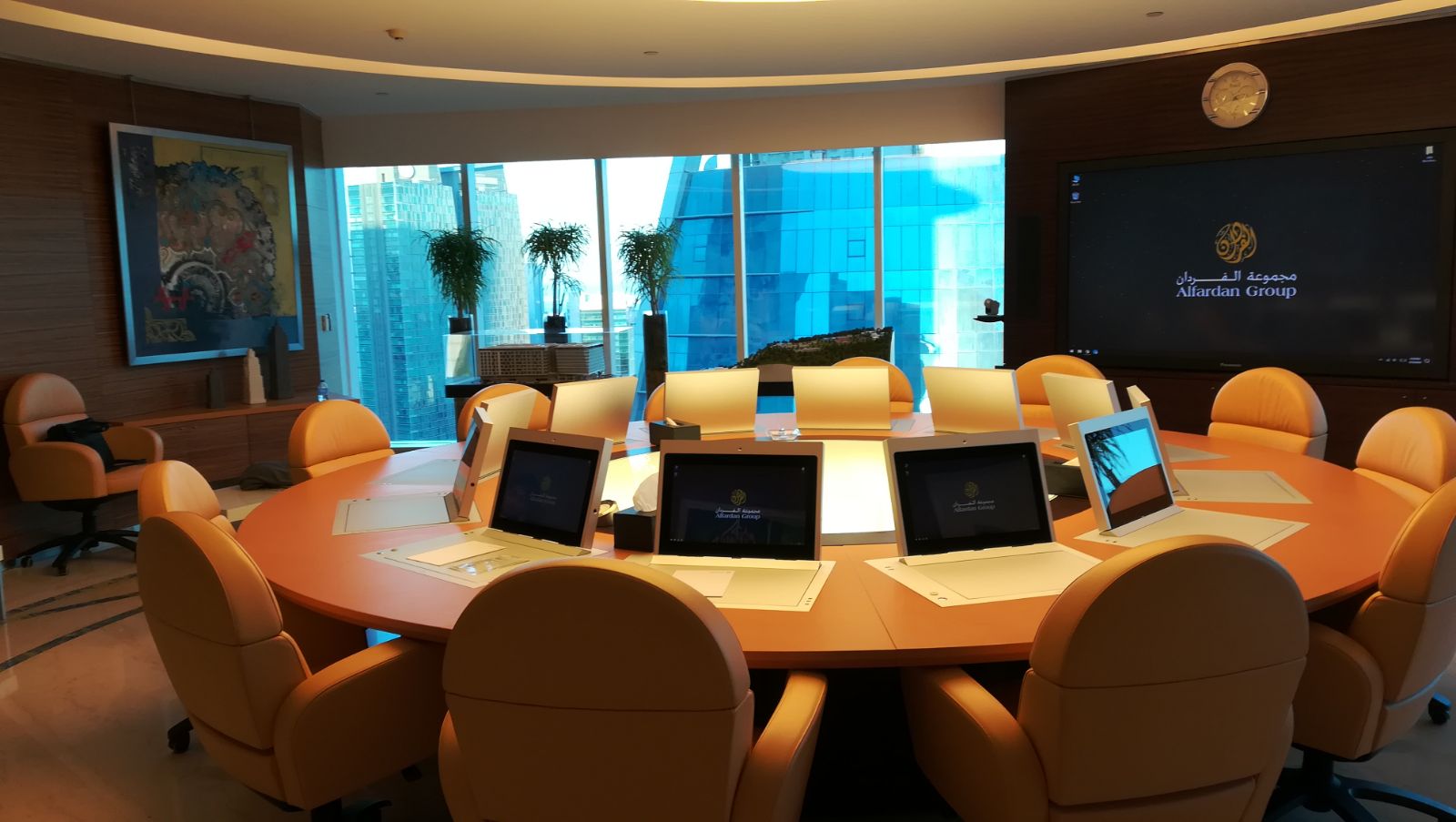 Hauptsitz der Alfardan Gruppe in Doha, Qatar
Arthur Holm's Dynamic3 motorisierte Monitore im Sitzungssaal der Geschäftsführung am Hauptsitz der Alfardan Gruppe.
Doha, Qatar. 2018
Sitzungssaal
Der Hauptsitz der Alfardan Gruppe in Doha, Qatar verfügt nun über einen erneuerten Sitzungssaal, ausgestattet mit 12 Arthur Holm's motorisierten Dynamic3 Monitoren. Ein zentraler runder Tisch erleichtert die Kommunikations- und Beteiligungsprozesse in Besprechungen. Die Wahl fiel auf Dynamic3 Monitore, um die räumliche Beweglichkeit zu steigern. Dank der variablen Positionen der Monitore – in die Tischfläche versenkt oder ausgefahren und in einem 20 Grad Winkel geneigt – lässt sich der Tisch unterschiedlich nutzen. Andererseits ist durch Ergänzen einer HD-SDI Kamera die Integration eines Videokonferenzsystems und eines USB-Anschlusses in der Abdeckplatte jedem Nutzer der Zugang zu den Computern möglich. Außerdem wurde auf der Abdeckplatte ein Mikrofon ergänzt und damit eine personalisierte, multifunktionale und inspirierende Lösung geschaffen, die sich perfekt in das Innendesign des Raumes einfügt.
Das Projekt wurde in Zusammenarbeit mit unserem Partner Techno Q entwickelt, einem führenden Systemintegrator mit Sitz in Qatar, der über 20 Jahre Erfahrung in den Bereiche Design, Einbau und Instandhaltung von AV- und Technologieprojekten verfügt.
Motorisierte Dynamic3 Monitore
Die im Hauptgebäude der Alfardan Gruppe eingebauten eleganten 17″ Dynamic3 Monitore bestehen aus Aluminium und besitzen einen Touchscreen aus Blendschutzglas mit herausragenden Kontrastwerten sowie unübertroffenen Sichtwinkeln. Der Bildschirm fährt hoch, kippt und vollführt eine 180 Grad Drehbewegung. Anschließend fährt er wieder in die Tischfläche ein. Hierbei sind zwei Positionen möglich: die Bildschirmseite kann nach oben bzw. nach unten zeigen. Weiterhin wurden diese motorisierten Dynamic3 Monitore mit AKG Mikrofonen und Extras wie USB-Anschlüssen und einer HD-SDI Kamera personalisiert.
Built entirely of aluminium and black edged anti-glare glass, the Dynamic3 monitors offer discreet and timeless design. The anodised finish provides a soft, silky effect, is extremely resilient and also serves to dissipate heat. The glass protects the screen, reduces "mirror" effect, allows for natural transparent colour and can work as a touch surface. The Dynamic3 range provides excellent contrast and unsurpassed viewing angles. Integration into furniture is extremely simple. The system is unique not only in terms of aesthetics but also in terms of functionality; the screen rises and leans, has an additional 180° rotation movement, and retracts inside the work surface in two different positions, with the monitor oriented up or down. The touchscreen can be used in a completely flat position, flush with the work surface. Its sophisticated electronics automatically detects the screen position, orienting the image accordingly and the screen's lifting system automatically activates the elevation of the keyboard and mouse tray. Please check this integration including camera and USB charging connectors.

Posted by ArthurHolm on Thursday, 29 March 2018
Über die Alfardan Gruppe
Die Alfardan Gruppe ist für die hohe Qualität ihrer Produkte und Leistungen bekannt sowie für ihr hohes Innovationspotential, welches sie zu einer der wichtigsten Firmen der Region macht. Den Hauptgeschäftszweig der Alfardan Gruppe bilden die Juwelen. Erfolge werden aber auch in anderen Sektoren erzielt, wie im Immobiliengeschäft, in der Krankenhausbewirtschaftung, der Automobilbranche, im Devisenhandel, im maritimen Dienstleistungsbereich und im Investment-Aktien-Geschäft.
Die Zielsetzung der Alfardan Gruppe ist es, konkurrenzlose Luxusprodukte und -dienstleistungen anzubieten unter Einhaltung höchster Qualitäts- und Exzellenzstandards. Entschlossen zur Marktführerschaft, erfüllt die Gruppe die Kundenanforderungen weit über deren Erwartungen hinaus. Auch wir bei Arthur Holm arbeiten auf dieses Ziel hin. Wir teilen dieses permanente Streben nach Innovation und Qualität und können somit faszinierende Hightech-Projekte wie diesen neuen Sitzungssaal der Geschäftsführung von Alfardan erschaffen.
Products applied to this project