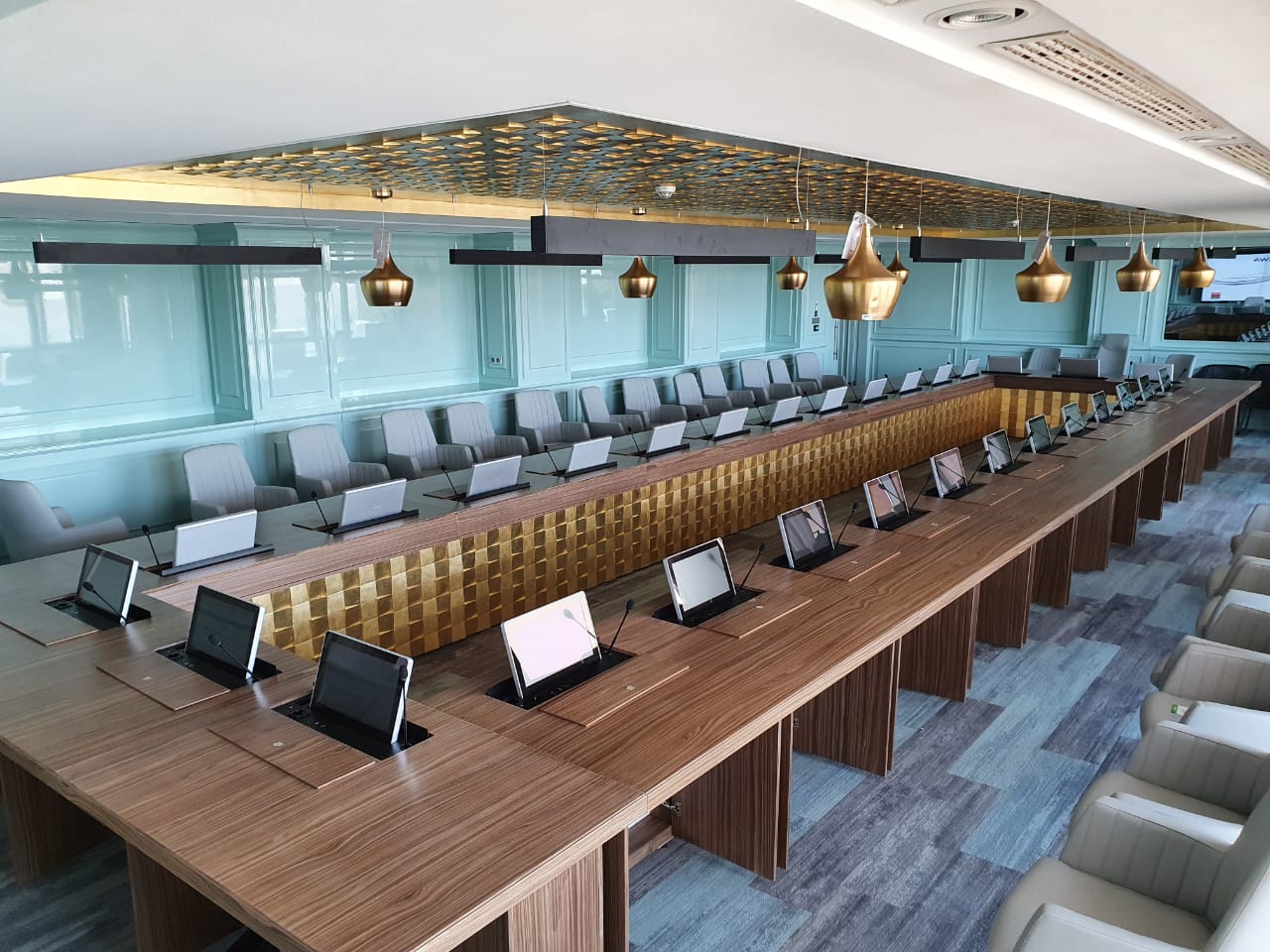 AKWA in Morocco
Arthur Holm DynamicX2 UnderCover monitors at the AKWA in Morocco
Morocco, Casablanca
Conference Room
The smart UnderCover solution conceals perfectly the Arthur Holm motorized monitors, DynamicTalk and connectors. Screens, gooseneck microphones and connectors disappear within the table creating a smooth and uniform surface. There is a minimum impact on the table design since the cover is veneered with the same finishing of the furniture.
Flexible spaces, automated technology, invisible integration in boardroom furniture, synchronisation of movements… All these aspects were taken into consideration when Arthur Holm created the patented UnderCover technology.
UnderCover is an ingenious, yet simple solutions made up of an automated cover plate that dissapears within the desk and that has been specially designed for an easy veneer. UnderCover is able to conceal perfectly the complete range of Arthur Holm vertically retractable motorized monitors together with retractable microphones.
This patented mechanism of an automated cover enables the monitor (plus audio conference "gooseneck" microphones and flexible connectivity options) to disappear neatly beneath the furniture with the simple touch of a button or through a remote control system.
This UnderCover solution was specially customized for our partner Finatech. It includes a Full HD 15" monitor, a Televic conference system and power outlet, RJ45 connector, USB passtrough, USB power and retractable HDMI passthrough cable. The monitors were equipped with DynamicLoop for an easy daisy chain of the monitor inputs.
Akwa Group S.A.  is a Moroccan conglomerate company headquartered in Casablanca. The company is primarily engaged in the oil and gas industry, but operates also in the telecommunication, tourism, hotels and real estate sectors. Its service stations operate under the Afriquia brand.
Products applied to this project