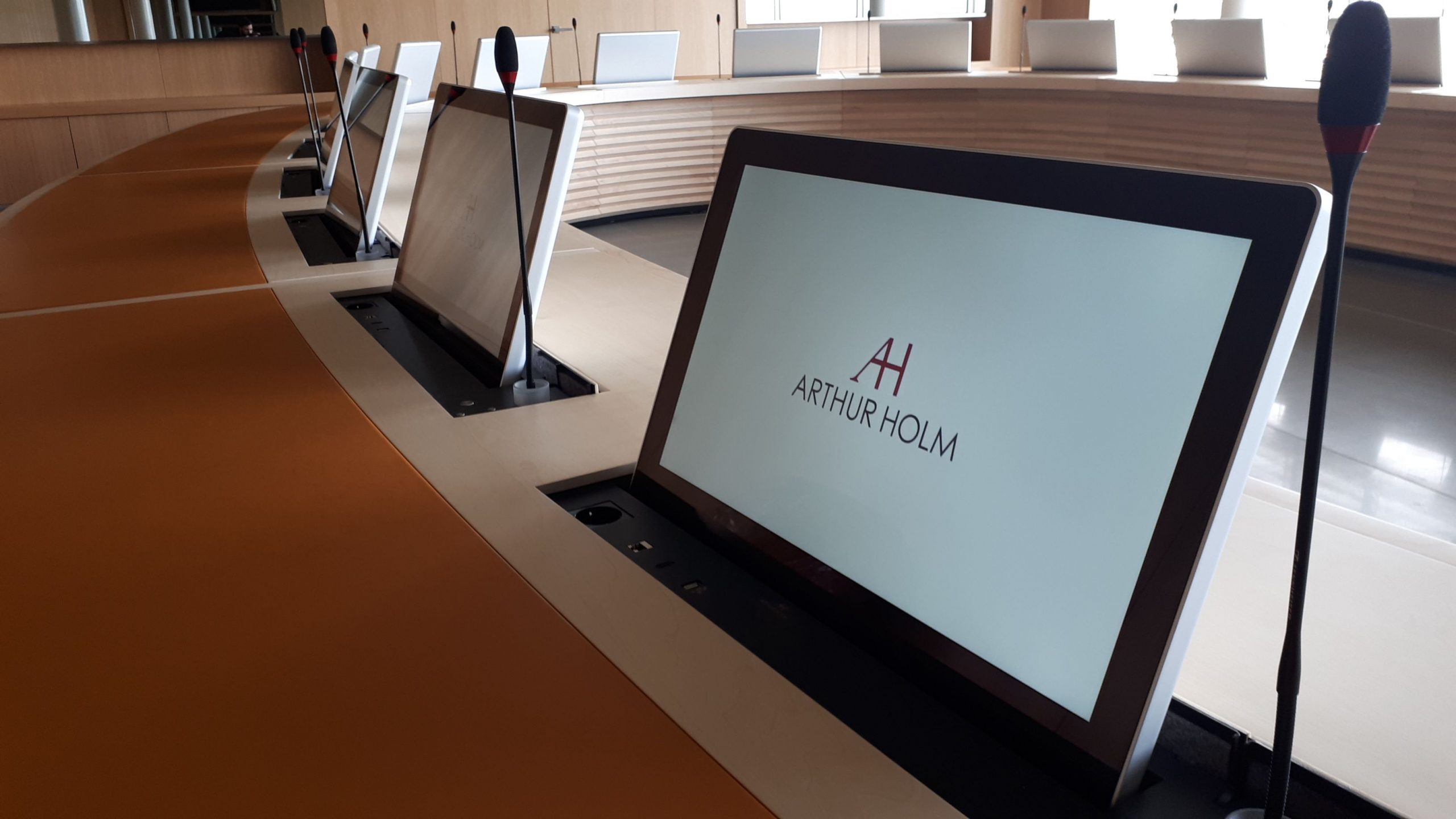 2020 was the year of UnderCover technology, created and patented by Albiral Display Solutions. UnderCover is a motorised mechanism that enables the monitor and-or microphone's cover to be completely retracted and concealed inside the table. This cover has been specially designed to be coated (veneered) with the same material as the furniture finish. This means that when the monitor or microphone is hidden, they are completely invisible and the table's surface has a smooth, consistent designed appearance…it's as if the mechanisms never existed! The user can raise the monitor and-or microphone by sliding their hand over the surface (depending on the veneer) and by pressing the buttons integrated on the edge of the table, or through an automated system. The system also permits integration of connectors in the front of the monitor: USB connectors, USB ports for charging devices, speakers, power outlets, retractable HDMI cables, RJ-45 connectors and buttons.
The incredible flexibility of this solution is not at odds with its discretion, elegance, versatility and respect for table design. Technology and design in perfect synergy  create a magical effect that help to promote concentration in meetings, encourage creativity, and inspire users to make the best decisions.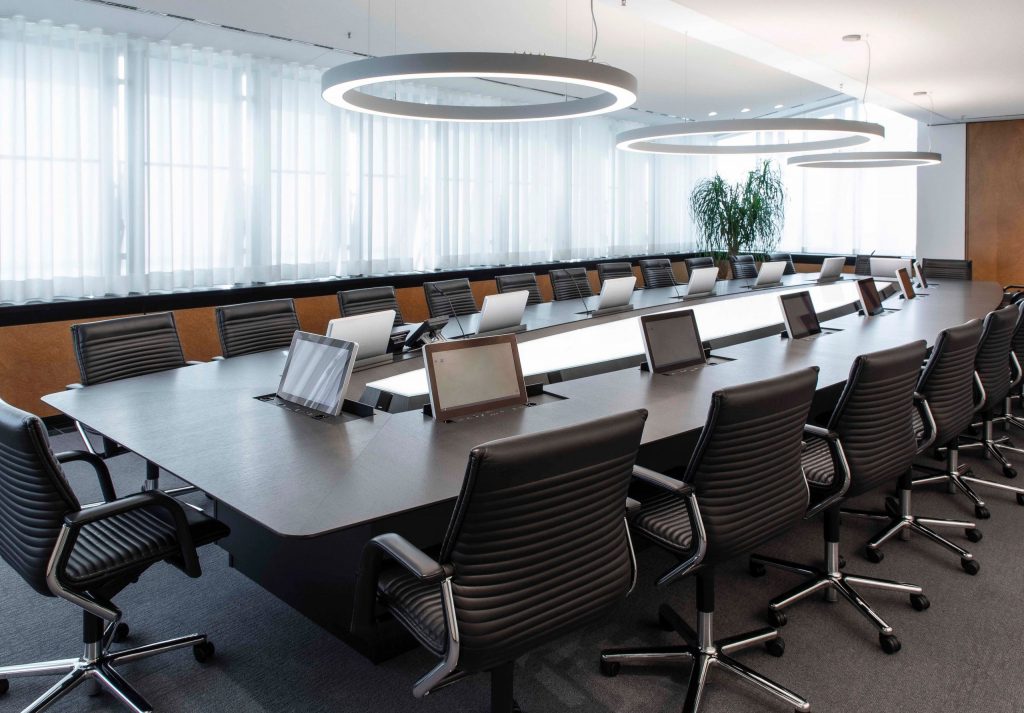 Arthur Holm's mission is clear; design innovative technology with the least impact on the furniture design. So with that being said, UnderCover can be covered in all types of material: wood, leather, steel, etc., so the table manufacturer doesn't have to adapt their design to the technology, it's the technology that adapts to the table's design, respecting and preserving both the finish and  materials chosen for construction.
Even though Arthur Holm already offered standard products in an "Underneath installation" version (an adaption of the motorised monitors that are installed from underneath the table, and whose cover can be veneered), UnderCover offers greater flexibility because the mechanism that lifts/retracts the cover is different from the monitor's.  Because of this customisation  is possible, so all kinds of connectors can be incorporated on the front .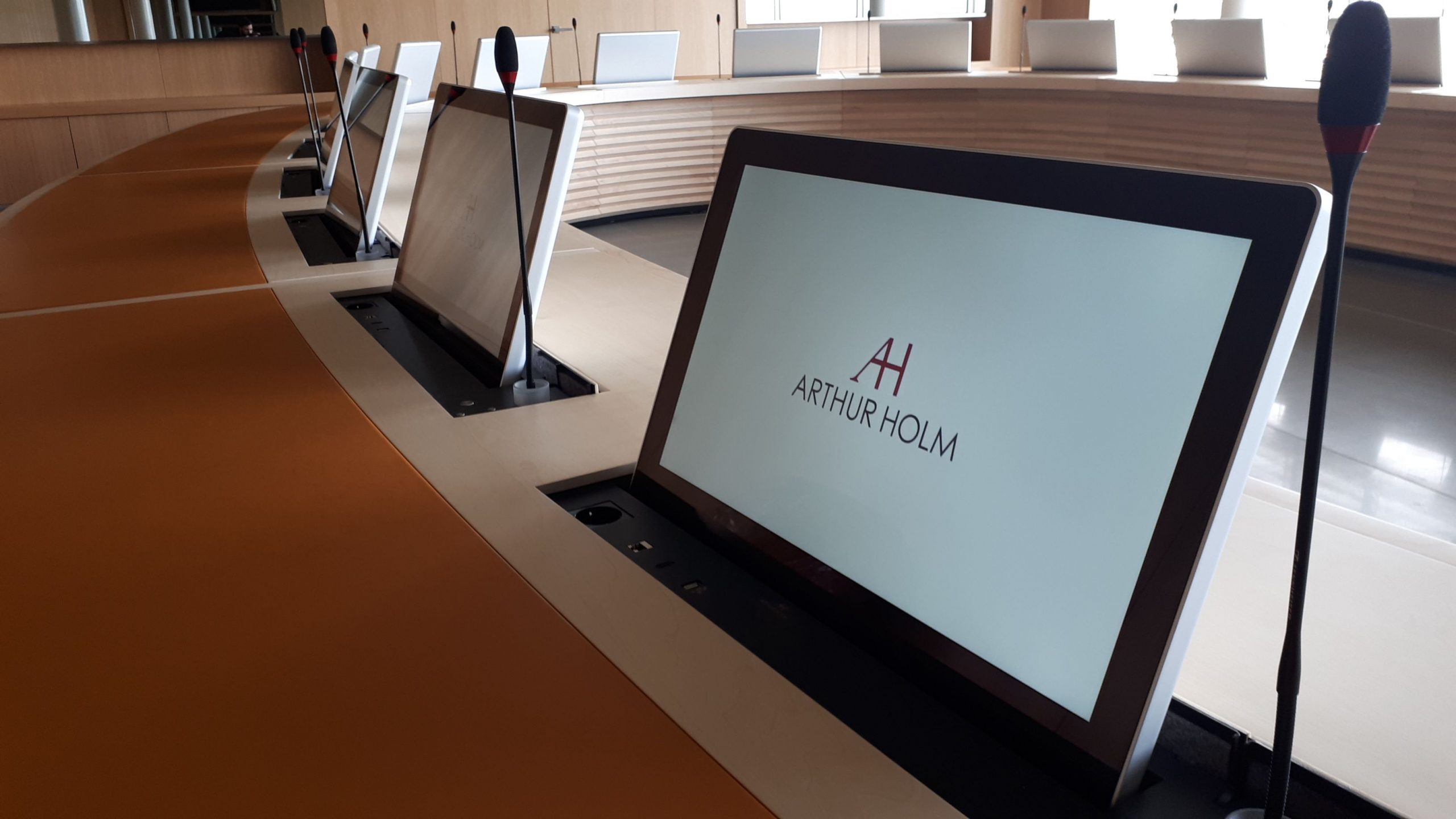 DynamicX2Talk UnderCover – open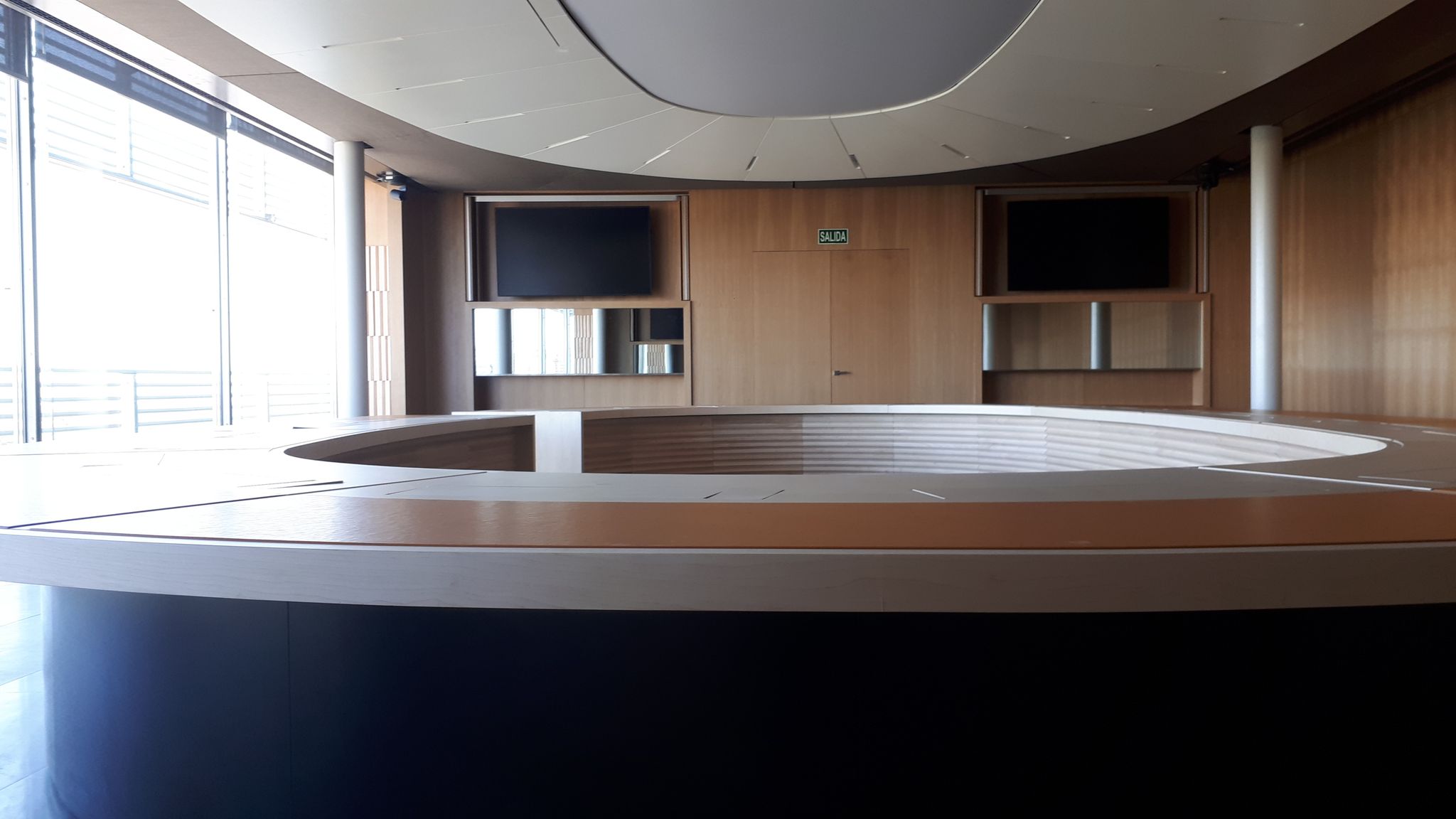 DynamicX2Talk UnderCover – closed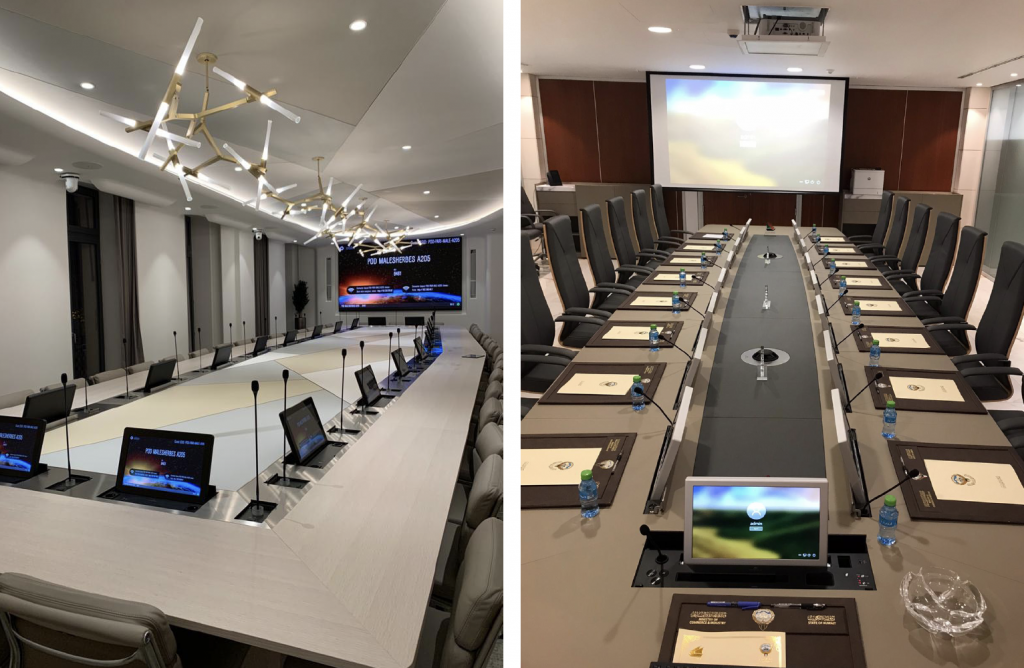 UnderCover Stainless Steel Veneer.                       Combination of UnderCover and Underneath                                                                                       leather veneers.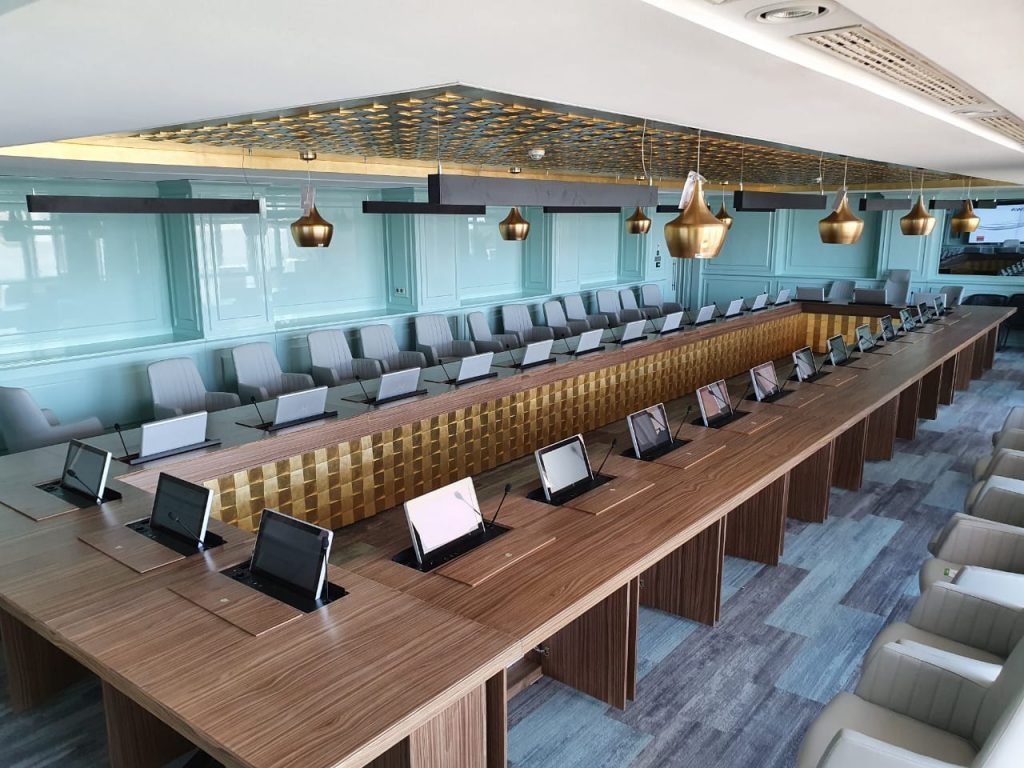 Undercover wood veneer
To further support the work of table manufacturers, Arthur Holm's UnderCover products are fitted with a mechanical self-calibration system (AH-AMMC) that adjusts the mechanism's strength according to the veneered material's weight. And, as mentioned above, the lift and retract control of both monitors and microphones can be activated remotely or locally through sensors placed under the veneer, or by pressing the buttons integrated  into the edge of the table, easily accessible to the user.
Discover the possibilities of UnderCover in this webinar:
https://www.youtube.com/watch?v=fay66BFxaAo&t=776s