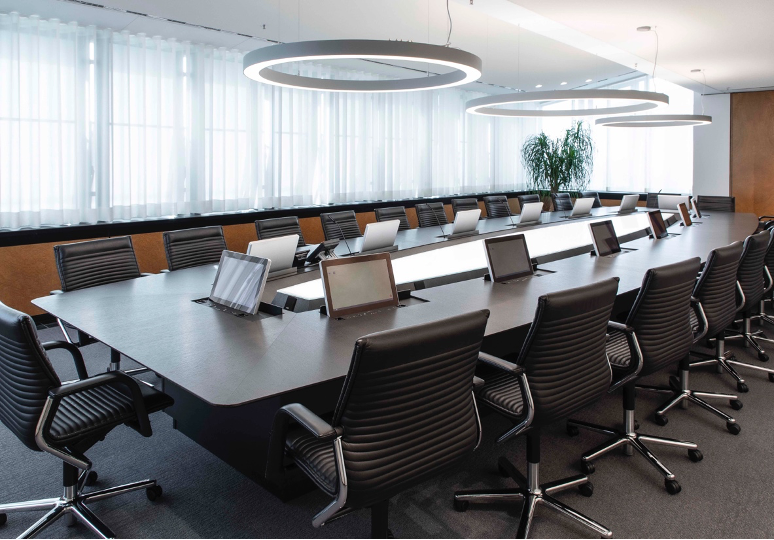 The Covid -19 virus appeared without much warning, and suddenly before we knew it, everyone was imprisoned in their own home. And thanks to that, we discovered other ways of working, connecting, adapting and ultimately, of living. We forced ourselves to carry on, we learned how to use video conferencing and virtual meeting apps in record time, we adapted to work from our homes, often in complicated situations in cramped space, surrounded by background noises like barking, kids crying and running around, while persevering on with a slow and saturated network connection. We stopped travelling; fairs and events were cancelled and we even ceased visiting family and friends. We stopped physically going to the office (in fact, during March and April 70% of the working population worked from home), but gradually, slowly and steadily we returned (currently 33% continue to work remotely). And forecasts suggest that this pattern will continue: if prior to the pandemic physical "face-to-face" meetings accounted for 60% of all meetings, it is estimated that by 2024 "face-to-face" meetings will have decreased to just 25%. However, several studies conducted by different sources (Gensler, McKinsey, Forbes and Stanford University) show very striking results.
While initially employees were satisfied (or very satisfied) working from home, after a certain period of time they experienced decreases in mental health wellbeing, creativity and productivity levels. Forbes conducted a study of 12,000 people and found that only 28% reported positive mental health states, 32% were satisfied with their work, and 36% were motivated, compared to pre-pandemic figures of 50% and 60%, respectively. Stanford University economist and professor Nicholas Bloom has been studying the sociological impact of working remotely for years. In 2014 he collaborated on an experiment; a Chinese company aimed to develop a business plan without investing in actual office space. To do this, they carried out a trial with 250 people who had to work from home for 12 months. At first, the results were encouraging: during the first 3 months it is estimated that productivity increased by 13% and there was a 50% decrease in staff turnover. But after 9 months, feelings of isolation and loneliness had set in. People began to complain that their chances of promotion had diminished, they could no longer speak informally and spontaneously either to their superiors or to their colleagues; levels of creativity and innovation decreased dramatically, as did the level of motivation and commitment to the company. Bloom also points out that working remotely contributes to inequalities since not everyone can work remotely and many tasks are inevitably on-site: transportation, health, manufacturing, etc. Other factors lie in the circumstances of each individual: maybe they don't have access to good Internet connection or adequate space or equipment to work from home. According to Bloom, workers who attained a higher education or a higher purchasing power have an advantage in being able to work remotely. Another trend that is likely to persist is the exodus from large cities to the outskirts. If the requirement to socially distance continues, it is possible that, instead of choosing centrally located high-rise offices, a company would consider locating to a less populated, well connected industrial area instead.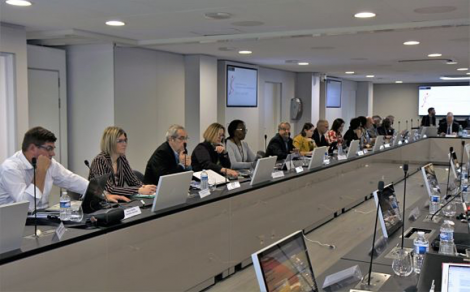 The 2020 study carried out by Gensler ("US Workplace Survey 2020") is also very interesting.
In it, 2,300 workers from various sectors were asked which place they prefer to work from such as home, a co-working space, a cafeteria, etc. And the place preferred for most was the office. The Gensler study reveals that before the pandemic only 1 in 10 workers regularly worked from home. But during the pandemic, this figure increased to 42% of the US workforce. As a result working remotely has not only been a game-changer and an important solution to avoid an economic collapse, but also a weapon in the fight against Covid 19.
Yet only 12% want to continue working from home; the rest want to return to the office or
adopt a hybrid model ( e.g. two days at home and three at the office). They miss their
colleagues, conversations and chats at the coffee machine or water cooler, post-it notes on boards, the shared energy, teamwork and atmosphere that is generated in a space of people focused on a common goal.
Because of this, it seems very unlikely that office spaces with access and areas for meetings and collaboration will ever disappear. On the contrary, it's likely that they'll end up being even more essential than before and we must pay extra attention to them.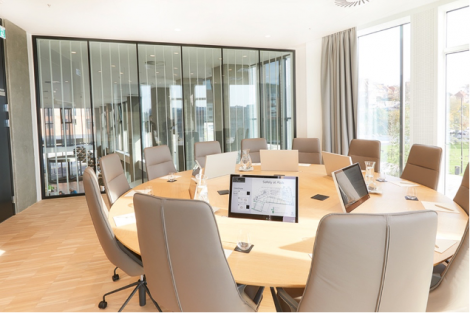 Meeting and conference rooms should be safe areas that convey this feeling of security.
They should be able to transform quickly and easily to ensure the social distance protocols.
A meeting room equipped with retractable motorised monitors provides the flexibility of both space and safety, allowing for instantaneous table adaption depending on the number of people. The beauty of Retractable technology is precisely this; to provide the tables with this exceptional flexibility. Depending on the requirements of the meeting, only the necessary monitors and microphones are used, and all of this is controlled remotely. In addition, integrating concealed protection and disinfection systems into the actual tables, which is vital in maintaining high standards of cleanliness, and increases the overall feeling of being in a safe working environment.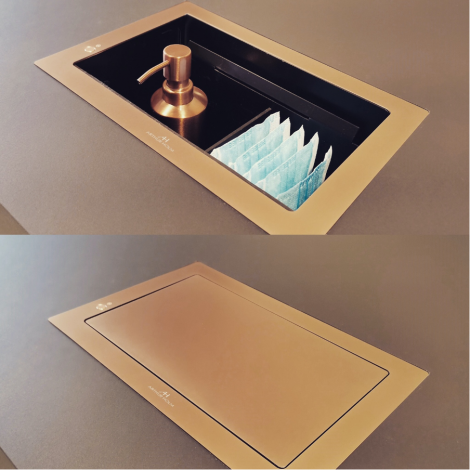 Meeting to socialise, collaborate, innovate and create will be the office's main objectives. The availability of personal technology for each meeting participant; whether it is a video screen or an audio system increases concentration, safety and, therefore, productivity.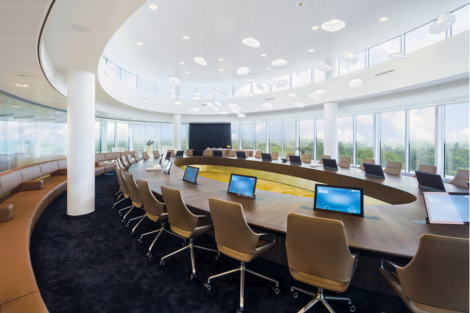 In addition, the meeting room must have the technology necessary to accommodate remote participants. Video conferencing will continue to play an extremely important role. The integration of individual cameras on each of the monitors will ensure higher video quality because in some rooms it may not be possible to install cameras on the walls that ensure a perfect viewing angle, particularly when the space must adapt to varying numbers and arrangement of meeting participants.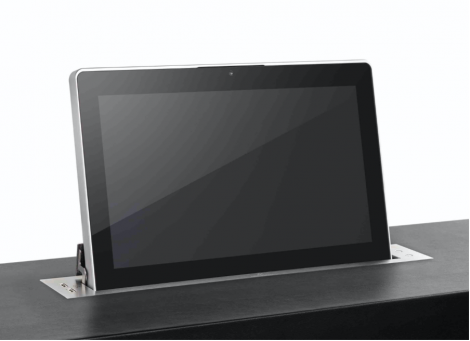 The aesthetics of the room is a crucial element in the corporate brand image. Being able to provide technology created "made to measure" for each room, considering the interior design or brand values of each company helps to reinforce the company's personality and image and therefore distance itself from competitors.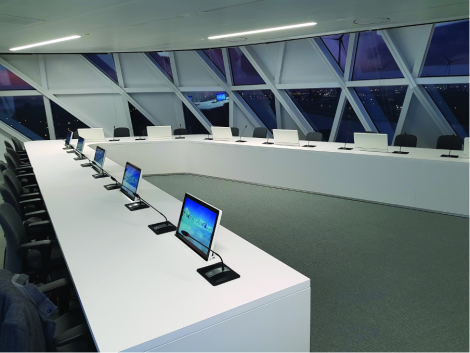 With this being said, organisations will value meeting rooms as extremely important places where strategic decisions are made; decisions that are critical to remain innovative, relevant and competitive, and that can only be achieved when people are able to come together, work together, and be "face to face".