The DynamicX2BC is a smart fusion combining the DynamicX2 retractable monitor with a motorised modular connection system-the ingenious BarConnect– two solutions to cover all conferencing needs in just one single product! We offer the highest quality retractable motorised DynamicX2 monitor with all the exclusive features we are famous for, with the NEW retractable BarConnect system.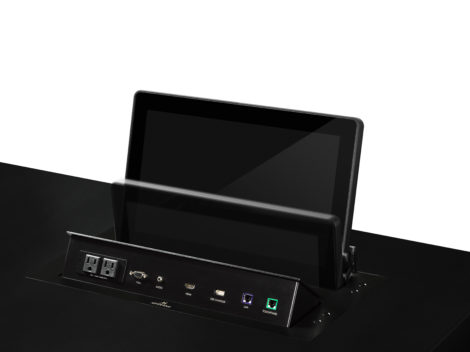 This personal conference set offers the best possible quality Full HD screen, & personalised connection possibilities like HDMI, Power USB, RJ45 & power outlets. The bar's ergonomic angle incline enhances comfort & usability, & a safety mechanism stops the system in case of obstruction. The design is simple with just 4 operation buttons. It's intuitive, and is easy to install, providing benefits for both user & installer offering cable management, improved table space & neater environment.

PLEASE CLICK THIS LINK TO VOTE FOR US! Vote for us here >
We are in the category Technology for Small Group Presentation (under 20 people)- WE REALLY APPRECIATE your support. PLEASE HELP US WIN!
See the DynamicX2BC in action : here