Talk and impress the audience
This unique system conceals the microphone elegantly within the desk surface (also providing an interior light to indicate status). Microphones are stored safely, improving flexibility of meeting and conference spaces, as tables can be used for different purposes. A LED light ring in the microphone base indicates a raised position.  The cover plate is made of brushed stainless steel, but it can also be veneered to match the table surface perfectly.
DynamicTalk has 2 different working modes: PA and Conference. When in PA mode, the microphone can be activated and deactivated through a button placed on the cover plate. A LED light will show the status by changing from green to red. The system will silence the microphone when it is in a retracted position. When in Conference mode, the microphone will always be active and both the light ring and the access to the button on the cover plate will be available via a GPI/GPO connector. In this mode, the system can be connected and controlled through a conference system.
DynamicTalk lift system is available in 3 standard sizes: 400mm, 500mm, 600mm (for short, medium and large microphones with XLR connector). Customized versions are also available for all types and sizes of conference microphones with an optional integration of other interfaces on the cover plate.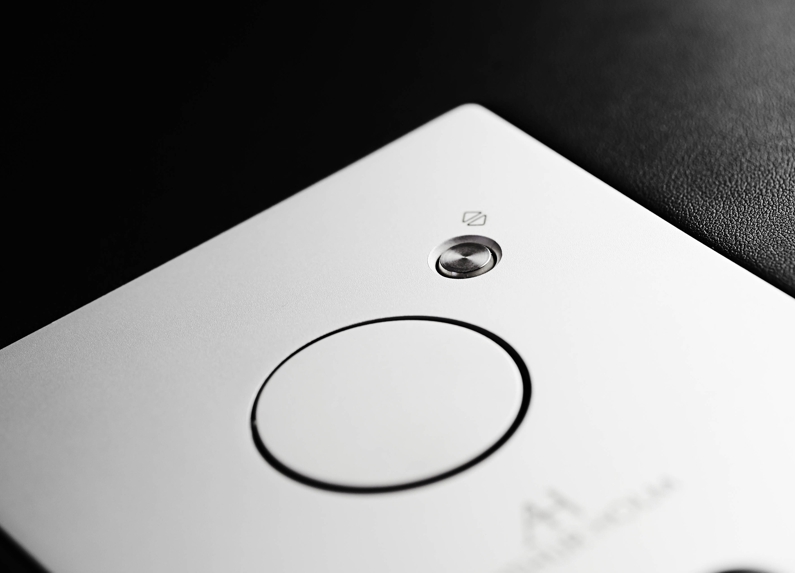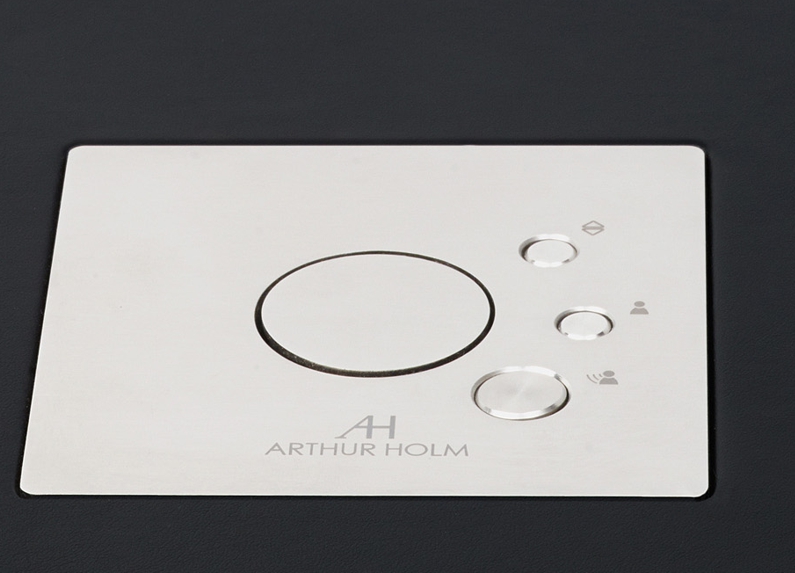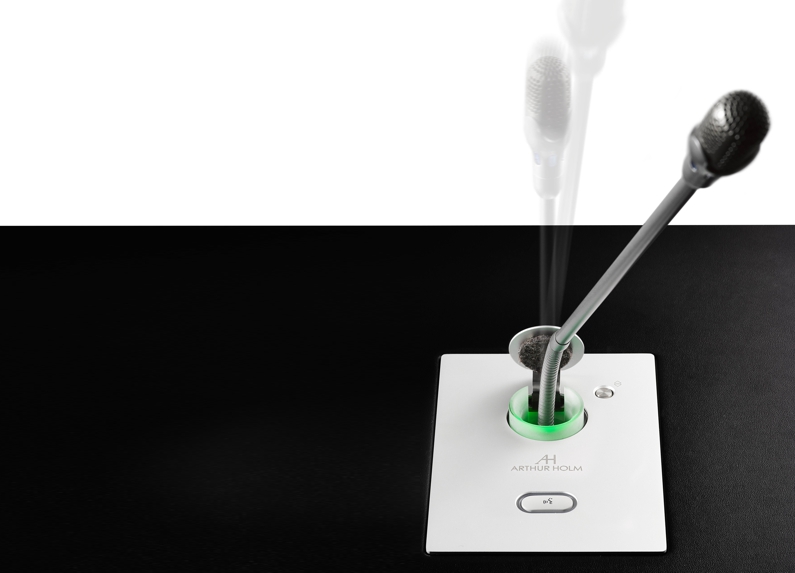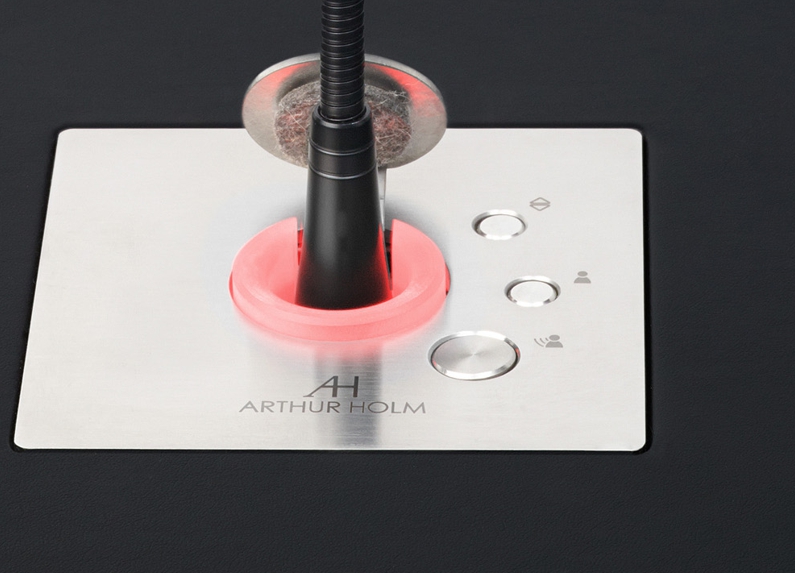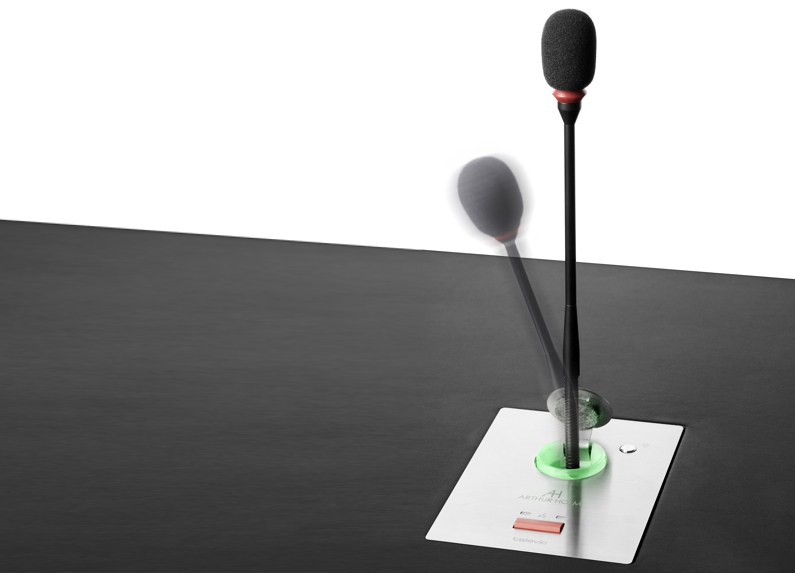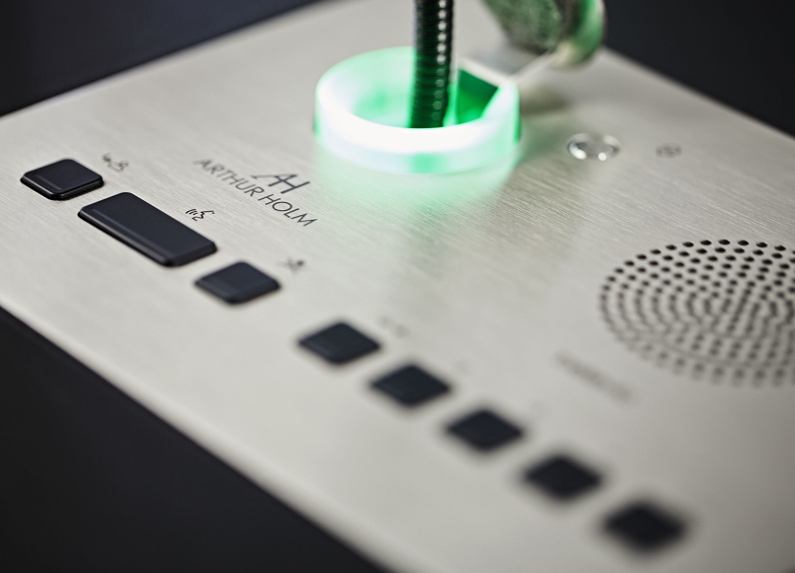 DynamicTalk range
AHDTLS
For gooseneck microphones
Max. 400 mm length
Vertical microphone storage
LED status indicator
Motorized lift
DynamicTalk Control
Up/Down Control

Button on upper cover plate
GPI contact closer
RS-422 (RJ45 CAT 5)
Microphone control

Button on upper cover plate
Customized function

Button on upper cover plate
GPI/O

LEDs, up/down and switch
Electrical
External power supplies

100-240Vac, 50/60Hz, 12Vdc
AHDTLM
For gooseneck microphones
Max. 500 mm length
Vertical microphone storage
LED status indicator
Motorized lift
DynamicTalk Control
Up/Down Control

Button on upper cover plate
GPI contact closer
RS-422 (RJ45 CAT 5)
Microphone control

Button on upper cover plate
Customized function

Button on upper cover plate
GPI/O

LEDs, up/down and switch
Electrical
External power supplies

100-240Vac, 50/60Hz, 12Vdc
AHDTLL
For gooseneck microphones
Max. 600 mm length
Vertical microphone storage
LED status indicator
Motorized lift
DynamicTalk Control
Up/Down Control

Button on upper cover plate
GPI contact closer
RS-422 (RJ45 CAT 5)
Microphone control

Button on upper cover plate
Customized function

Button on upper cover plate
GPI/O

LEDs, up/down and switch
Electrical
External power supplies

100-240Vac, 50/60Hz, 12Vdc