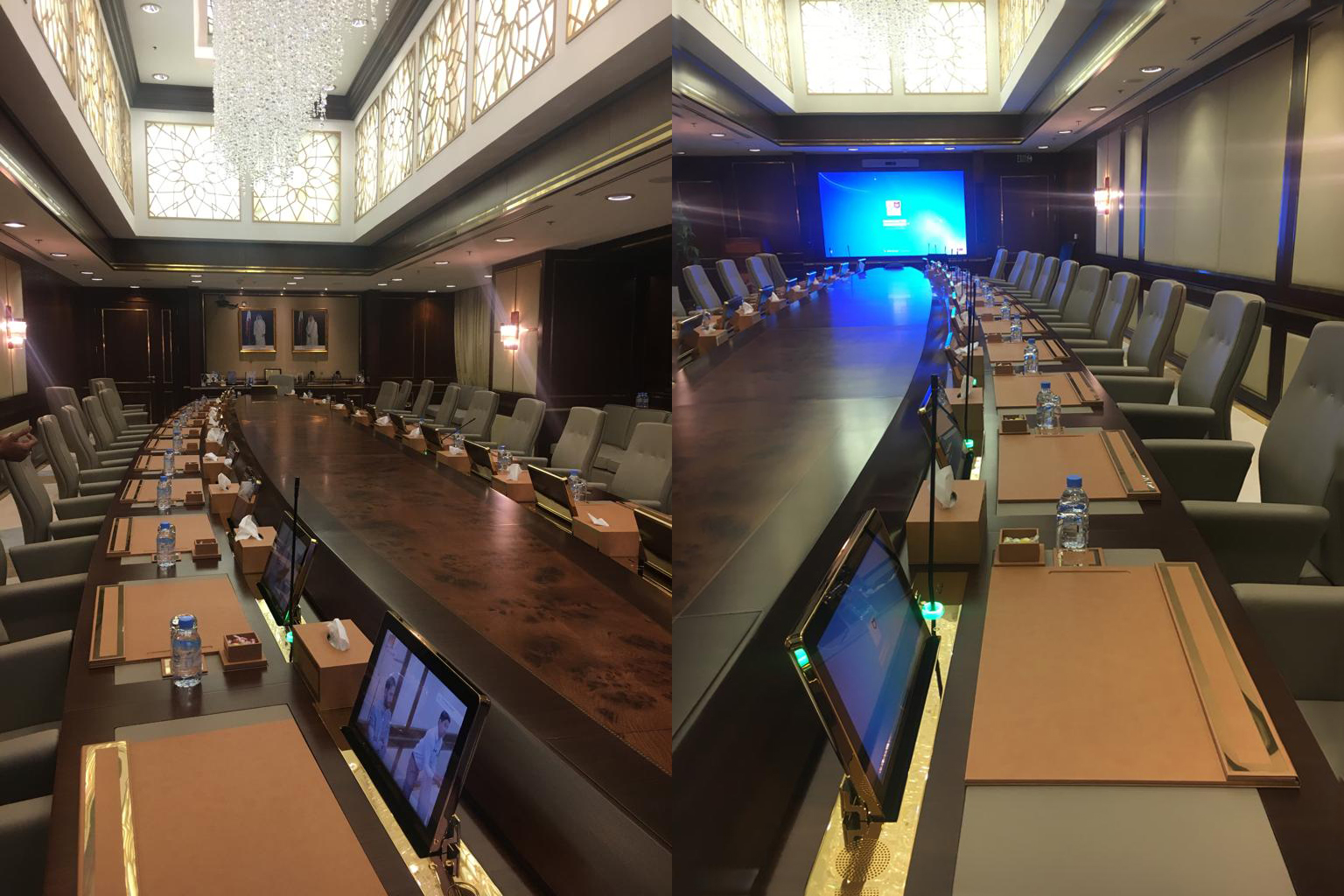 Qatargas in Doha
DynamicX2Talk with 24K Gold finish to light up an exclusive boardroom
Doha, Qatar. 2019
Boardroom
A boardroom is an essential space within a corporation, as it is where the most important decisions are made. It must be a well-designed room arousing a positive impression on attendees and a high dose of inspiration so that creativity and participation are enhanced to the fullest. Confidentiality and flexibility are also essential here and the technology used must be secure and adaptable, offering an optimised space that is comfortable and convenient for users.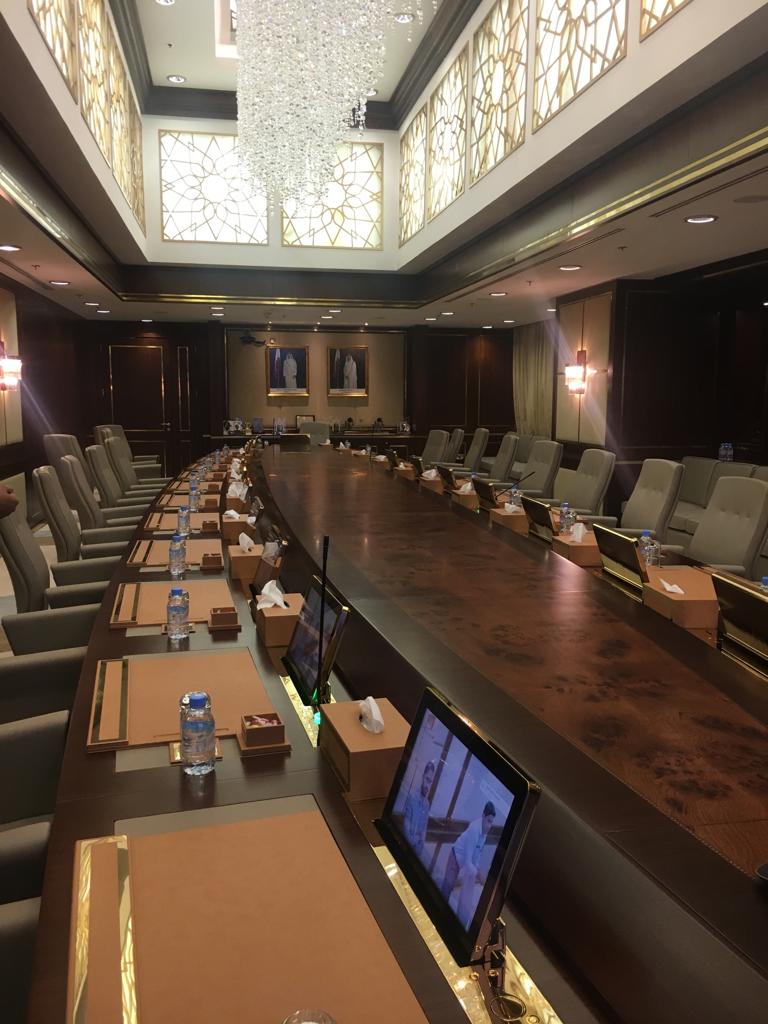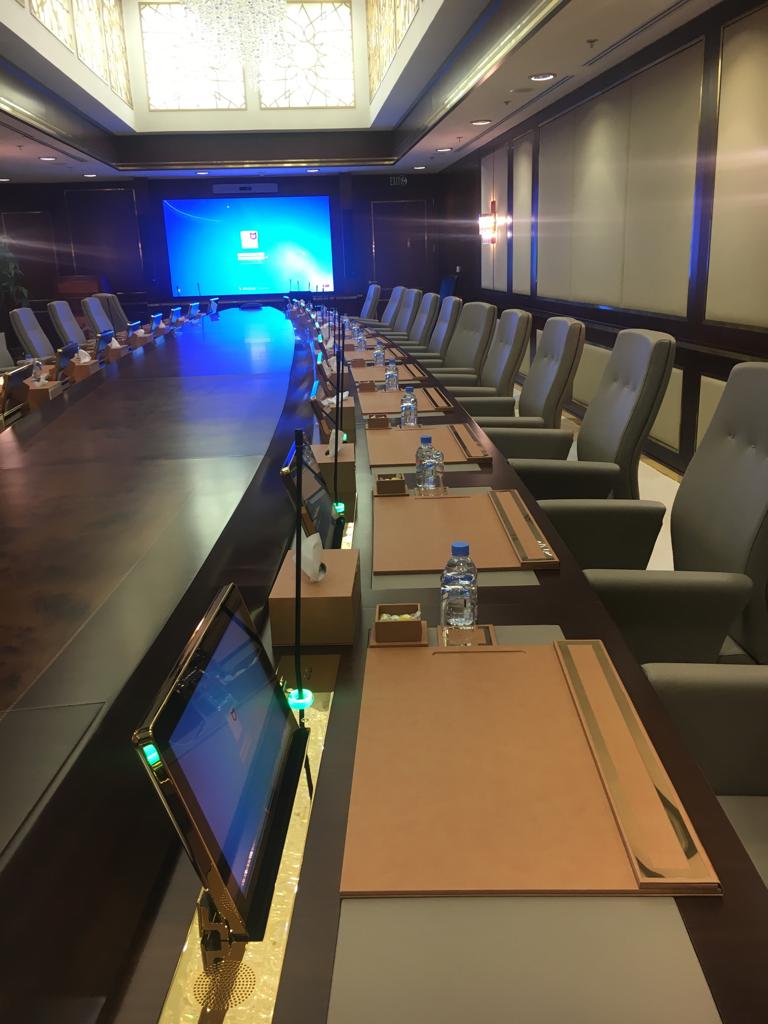 Making a boardroom shine
Arthur Holm and partner Techno-Q teamed up to deliver the best solution for the impressive oval shape meeting table installed in Qatargas boardroom. Luxury and style sparkle in every detail, creating a boardroom that shines.
Users are soaked by an upscale and select atmosphere when entering the room. The table is finished in brown leather with golden details and an amazing glass lamp crowns the room. The technology integrated is equally astonishing, as the DynamicX2Talk systems installed are finished with a flash of 24-karat gold, providing a look that becomes part of the whole interior design: exclusive, unobtrusive and flexible.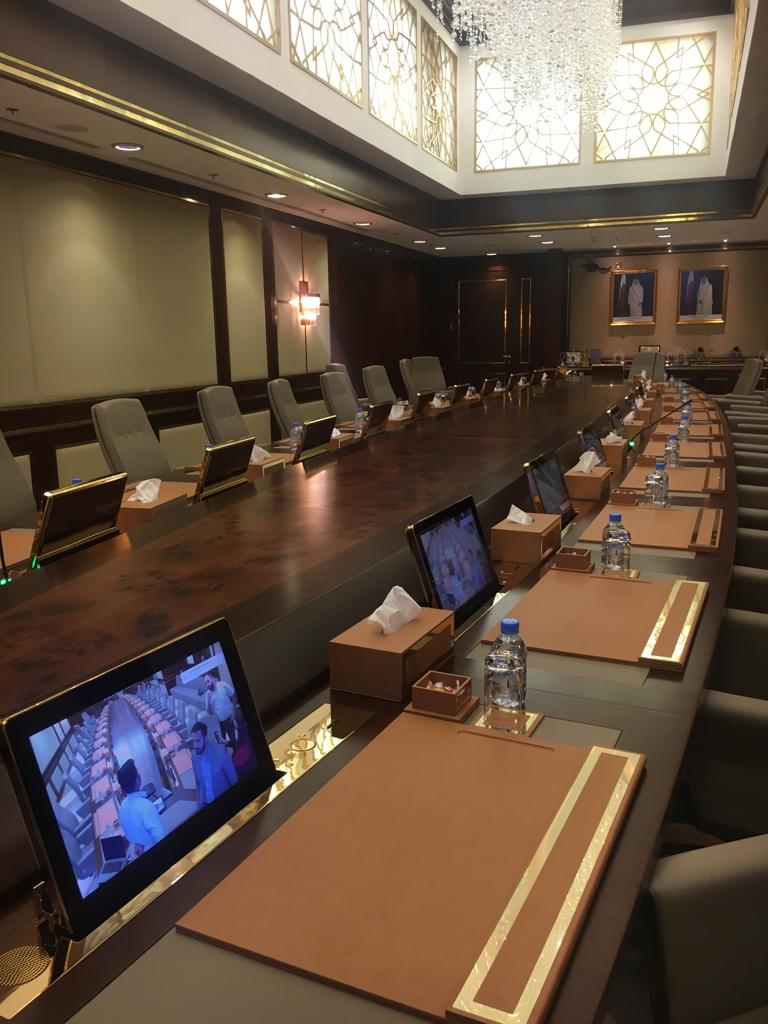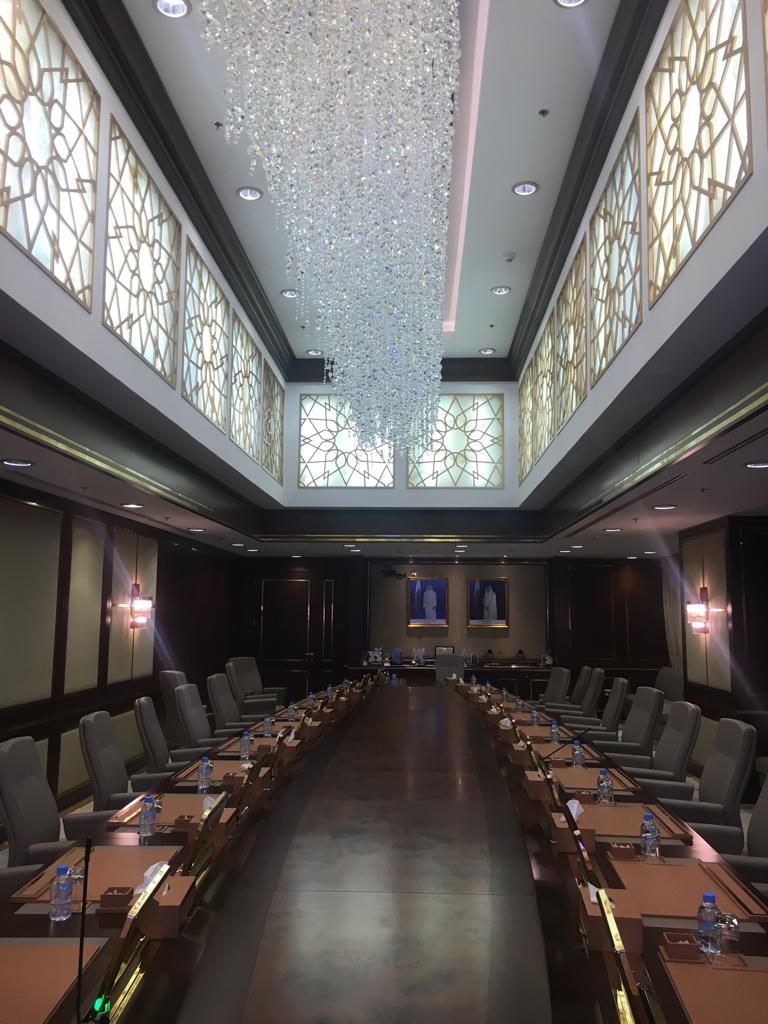 Functionalities to perform effective meetings
This boardroom needed a complete and high-tech equipment to allow conference attendees to carry out meetings in an easy and effective manner. They needed gooseneck microphones with 'talk' and 'mute' functions, speaker and a dedicated screen to accurately analyse data and figures. Flexibility was also very important. All devices should be able to retract and disappear when not needed, but also to be used separately if wished so.
DynamicX2Talk has been chosen as the perfect solution. It is a state-of-the-art reliable, retractable, individually addressable and remotely diagnosable monitor also including an independent lift system for gooseneck type microphones with a LED light to show the readiness of the speaker to talk. It has an automatic 20º tilt and it is made of solid aluminium personalised with a 24K gold finish. Silent, fast and extremely elegant, DynamicX2Talk can work at the user's choice, selecting only the screen, only the microphone, both or none. It can hide into the table when not in use and gets perfectly integrated in the interior design.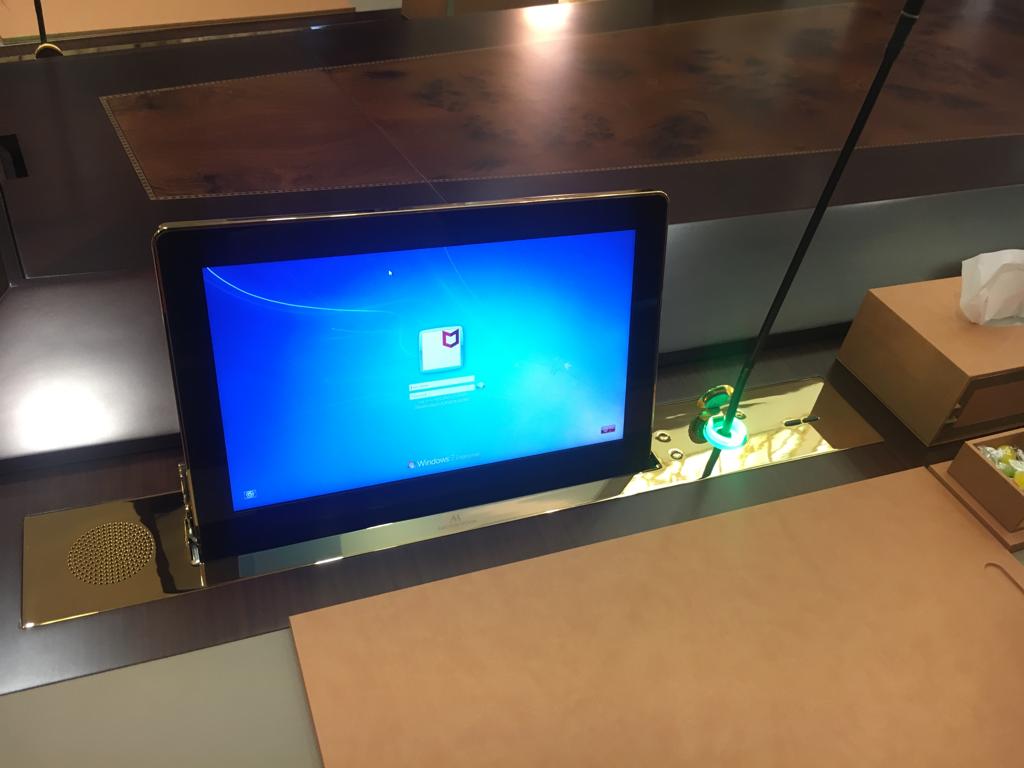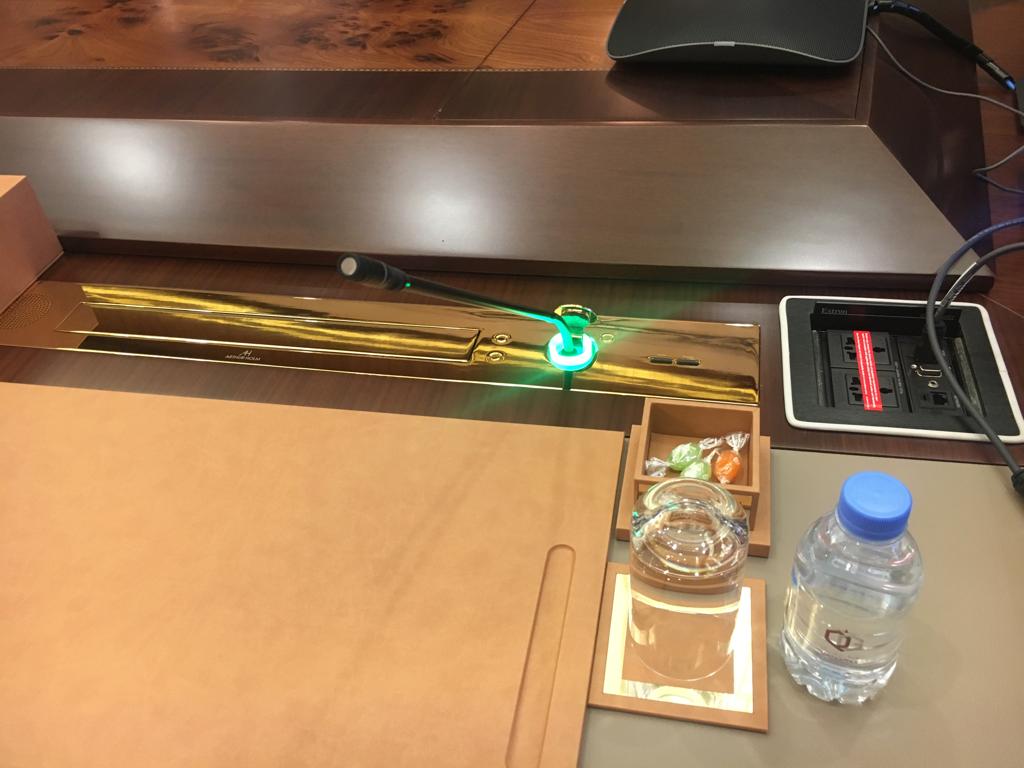 More about Qatargas
Qatargas is a unique global energy operator in terms of size, service and reliability. The Company operates 14 Liquefied Natural Gas (LNG) trains with a total annual production capacity of 77 million tonnes. Qatargas develops, produces and markets hydrocarbons from the world's largest non-associated natural gas field and it is also a leading exporter of natural gas, helium, condensate and associated products. Witha rich history of innovation, supply reliability and the highest standards of excellence in the industry, Qatargas is the largest LNG producer in the world.
More about Techno Q
Established in 1995, Techno Q is an industry-leading ELV systems integrator in Qatar. With a unique combination of technical knowledge and innovation, the company's major focus is designing, installing, testing, operating and maintaining integrated system solutions for a wide variety of environments. Techno Q makes technology easily accessible for equipping facilities of the most vital institutions and businesses in the region and its objective is to achieve the highest quality with custom engineering and systems integration.
Products applied to this project