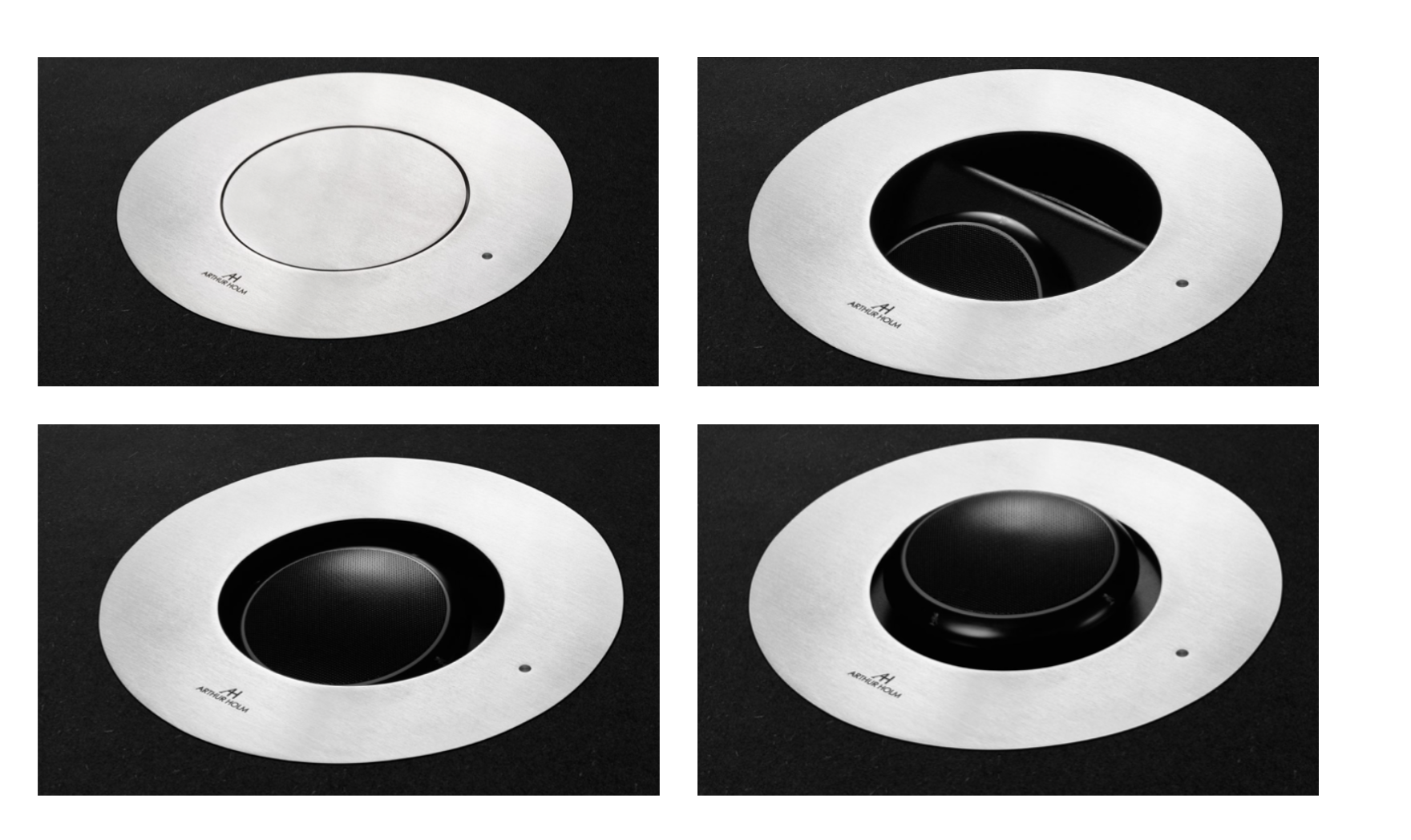 DynamicTalkB is a motorized lift for tabletop microphones. It makes tabletop microphones disappear within the table desk thanks to a smooth, silent and elegant movement. The tabletop microphone rotates and descends to a protected position inside the table when is not needed, closing up with a flush mounted brushed stainless steel cover. The movement can be activated by the push of a capacitive sensor, via RS-422 or via the wireless app AHlink. In order to achieve a uniform table design, DynamicTalkB is also available in a version prepared for veneering so the top can be upholstered with the same finish of the meeting table.
The changing nature of business meetings has made it crucial for meeting tables to be versatile and flexible.Furthermore, with the rise of remote work and global teams, meetings now take place in various settings – from small huddle rooms to virtual conference calls. Meeting tables need to accommodate different group sizes and configurations, as well as technology requirements such as video conferencing equipment. Additionally, modern businesses prioritize collaboration and creativity in their meetings, which require more adaptable furniture and technology that can be easily reconfigured to encourage brainstorming sessions or team-building activities. A versatile and flexible meeting table is essential for businesses that want to stay agile and adapt to changing work environments and this includes providing technology that enhances this versatility.
The benefits of versatile meeting tables are numerous
Firstly, they allow for multiple configurations, making it easy to adapt to different group sizes and styles of meetings. This can increase productivity by ensuring that the space is being used efficiently. Additionally, versatile tables can be easily moved and reconfigured, allowing for quick changes between meetings or events. This saves time and effort for those setting up the space. And, whereas tabletop microphones provide an unobtrusive design that seats on a conferencing table with 360-degree coverage- allowing both presential and remote participants to experience the conversation from around the table-, the DynamicTalkB makes this technology disappear from the desk when not needed.
Finally, having a flexible meeting table means that the space can be used for a variety of purposes beyond just meetings. Such as training sessions or other events, increasing the overall value of the space.
The current trend in meeting room design is focused on creating spaces that are flexible, adaptable, and technology-enabledincluding technology that perfectly merges with the table design.  DynamicTalkB enables the tabletop microphone to emerge when it is needed and makes it disappear within the desk when not. The table improves in efficiency and in versality!
DynamicTalkB is compatible with:
https://downloads.biamp.com/assets/docs/default-source/data-sheets/biamp_data_sheet_parle_jul2236627dd1a3944817a588e833c0c59c4d.pdf?sfvrsn=91b562f_20
https://www.logitech.com/en-us/products/video-conferencing/accessories/mic-pod-for-rally.952-000038.html#specs
https://www.shure.com/en-US/products/microphones/mxa310?variant=MXA310AL
And, to complete the system, it matches perfectly with our DynamicSpeaker!