A straight forward motorised, foldable monitor
Dynamic1H motorized foldable monitor provides a horizontal motorized movement. The screen is always visible, it raises and leans and can be stopped at any position between 0 and 70°. A smart memory system enables both set up and recall of the desired tilting position. Built entirely of aluminium and with a black edged anti-reflection glass, Dynamic1H monitors are extremely elegant, discreet and timeless. The anodised finish provides a soft, silky effect. It is extremely resilient and serves to dissipate heat.
The glass protects the screen of the Dynamic1H, reduces the mirror effect, allows natural transparent colours and also works as a multi-touch surface (optional). Dynamic1H foldable monitors are equipped with a safety system which stops the movements if any resistance is detected. These monitors are remotely controlled and diagnosable through the ERT interfaces in a simple and cost effective way. This range is available in 12″, 17″ and 22″ sizes all providing excellent contrast and unsurpassed viewing angles.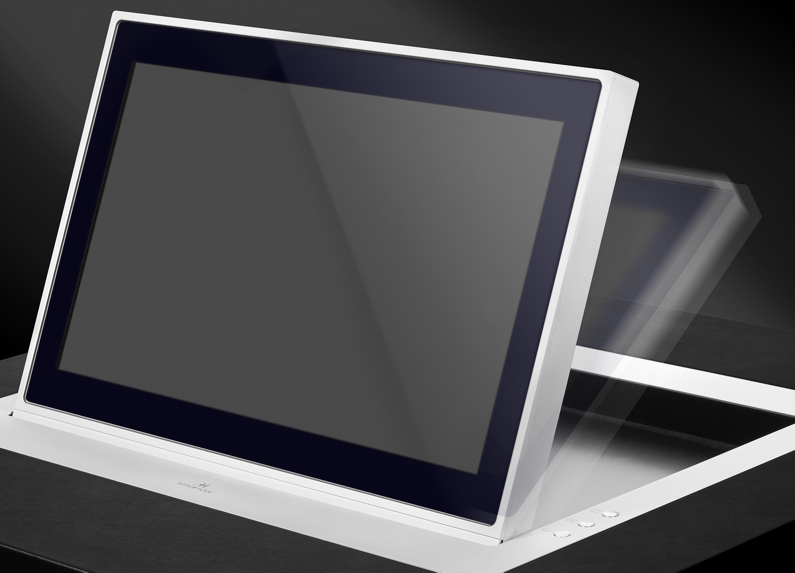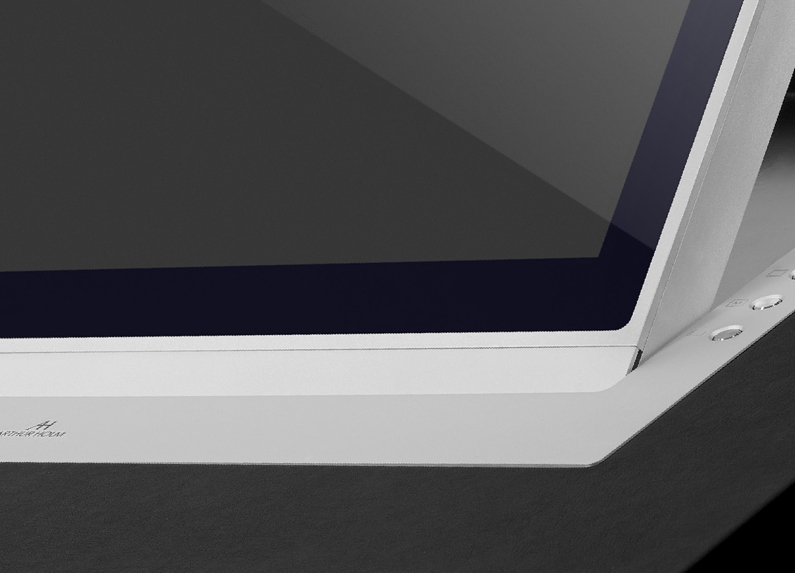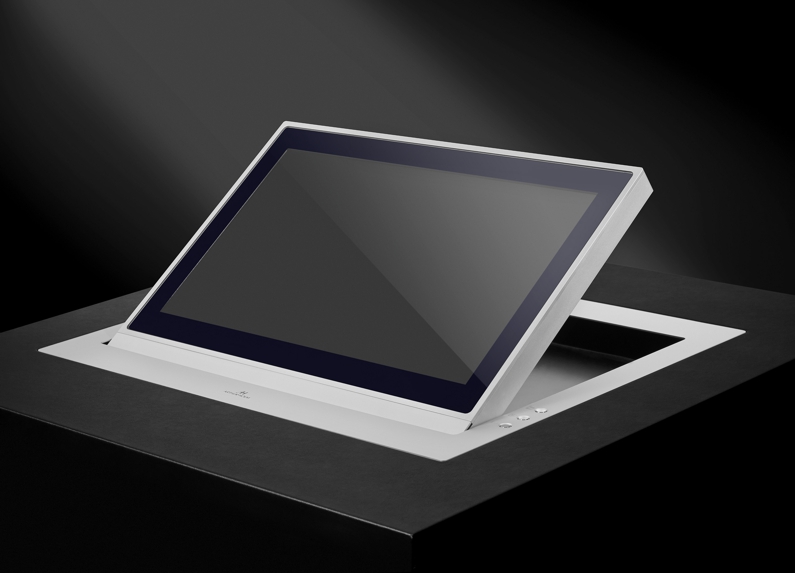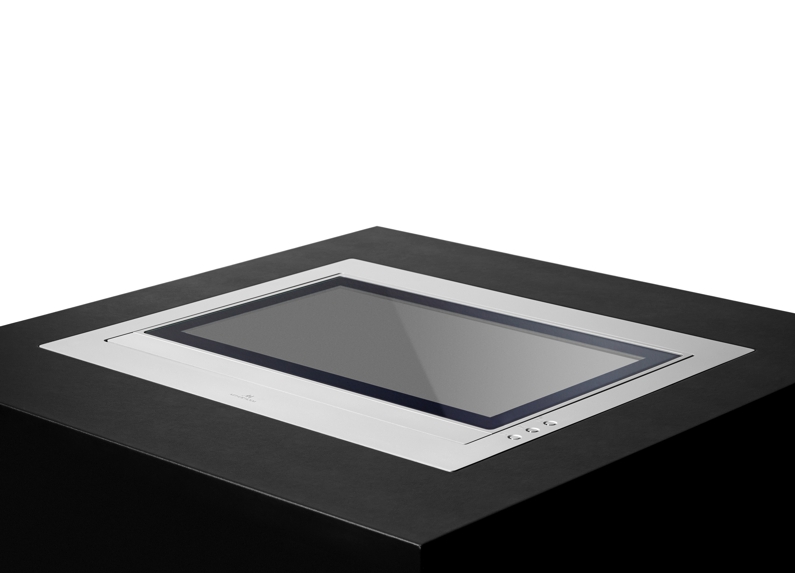 Dynamic1H range
AH17D1HGA
Foldable
1 movement
17,3"
Full HD
Memorised position
Fully motorised
Display
Size

17.3" TFT Active Matrix, FULL HD
Resolution

1920 (h) x 1080 (v)
Pixel

0.1989 (h) x 0.1989 (v) mm
Viewing angle

60°/80° (u/d) / 80°/80° (l/r)
Viewing area

381.888 (h) x 214.812 (v) mm
LED backlight lifespan

50.000 hrs
Response time

Tr 37 ms, Tf 7 ms
Temperature

Operating 0ºC — +40ºC
Storage -20ºC — +60ºC
Materials
Glass

AR 2-side with an anti-reflective coating on the glass surface. Thickness: 2.0 ± 0.3 mm
Cover plate

Stainless steel. Optional matte finish, or can be veneered to match the furniture
Connectivity
Input signal

DVI-I (1 input) – HDCP Compliant
DVI-D (1 input) – HDCP Compliant
RJ45 CAT5 (with loop)

Addressable RS422 monitor control by AHnet protocol
GPI (SubD9)

Up/Down control
AH22D1HGA
Foldable
1 movements
21,5"
Full HD
Memorised position
Fully motorised
Display
Size

21.5" TFT Active Matrix, FULL HD
Resolution

1920 (h) x 1080 (v)
Pixel

0.247 (h) x 0.247 (v) mm
Viewing angle

178° (v) / 178° (h)
Viewing area

476.064 (h) x 267.786 (v) mm
LED backlight lifespan

30.000 hrs
Temperature

Operating 0ºC — +40ºC
Storage -20ºC — +60ºC
Materials
Glass

AR 2-side with an anti-reflective coating on the glass surface. Thickness: 2.0 ± 0.3 mm
Cover plate

Stainless steel. Optional matte finish, or can be veneered to match the furniture
Connectivity
Input signal

DVI-I (1 input) – HDCP Compliant
DVI-D (1 input) – HDCP Compliant
RJ45 CAT5 (with loop)

Addressable RS422 monitor control by AHnet protocol
GPI (SubD9)

Up/Down control