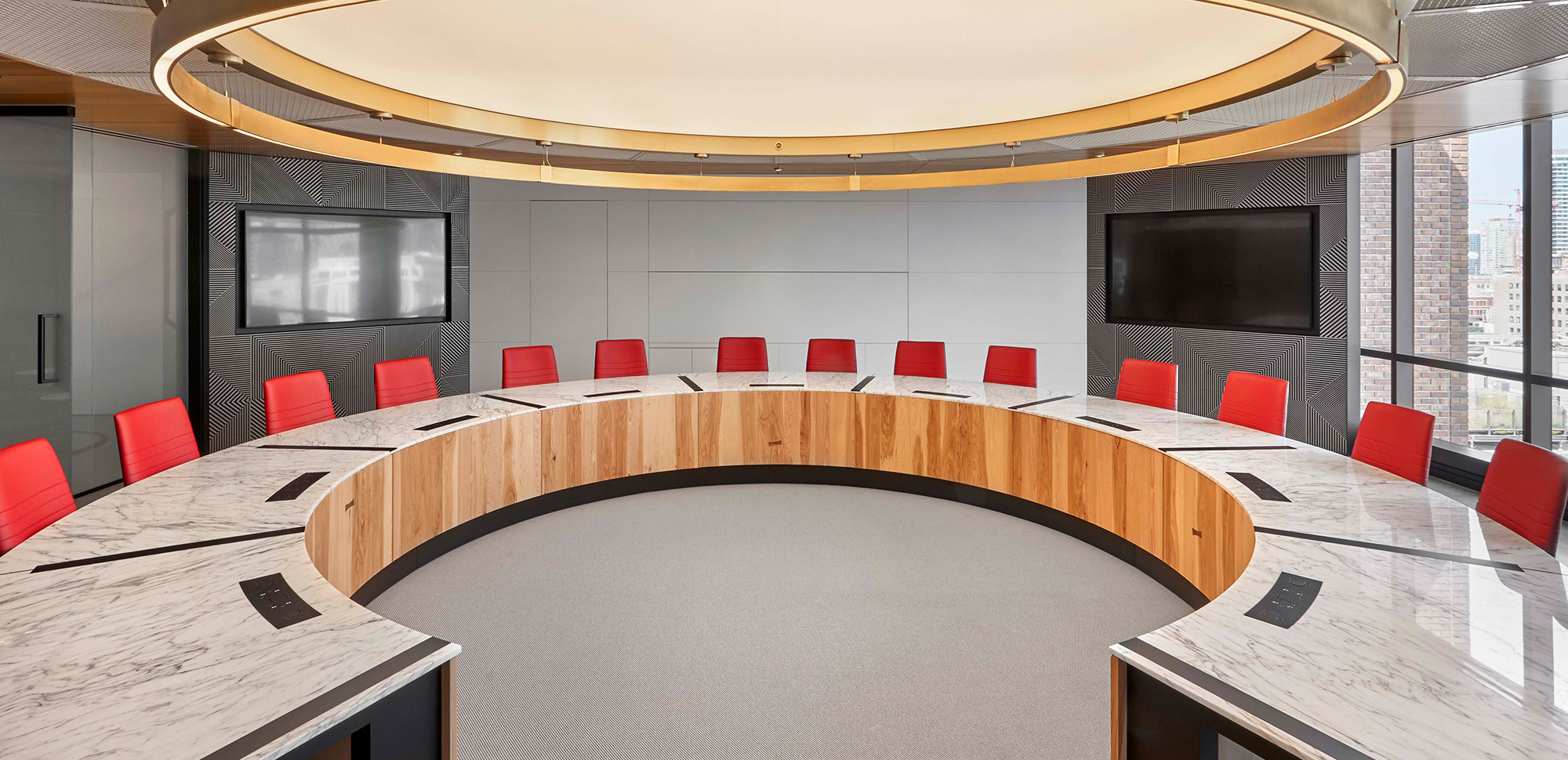 Arthur Holm in the McDonald's Headquarters: They're Lovin' It!
DynamicTalk and DynamicCableRetract by Arthur Holm in the McDonald's Headquarters: They're Lovin' It!
USA, Chicago
Exclusive Boardroom
McDonald's relocated its headquarters to a newly constructed facility in Chicago that includes two partial floors and five full floors of space. AV-enabled spaces include divisible multipurpose rooms, training rooms, various sized conference rooms, huddle rooms, a boardroom, executive offices and an AV control center, among others; technology standards for McDonald's that enable user-friendly collaboration with a consistent user experience across the entire McDonald's campus.
The custom boardroom table has a stone top with steel and brass inlays plus a steel and urban hickory base. Arthur Holm custom designed a version of a black painted arched connection plate including:
2 DynamicTalk for Audio Technica ES915H12
1x free button with red LED and contact closure to operate 12VDC
4x power USB
1x HDMI retractable cable
The DynamicTalk helped reinforce the quality of the sound in the room while optimising the space on the table thanks to its motorized mechanism, wehereas the DynamicCableRetract is a motorized retraction solution for HDMI cables allowing the users to connect their own devices and share their contents to a central large screen.
This unique system conceals the microphone elegantly within the desk surface (also providing an interior light to indicate status). Microphones are stored safely, improving flexibility of meeting and conference spaces, as tables can be used for different purposes.
Another custom solution from Arthur Holm!
Products applied to this project