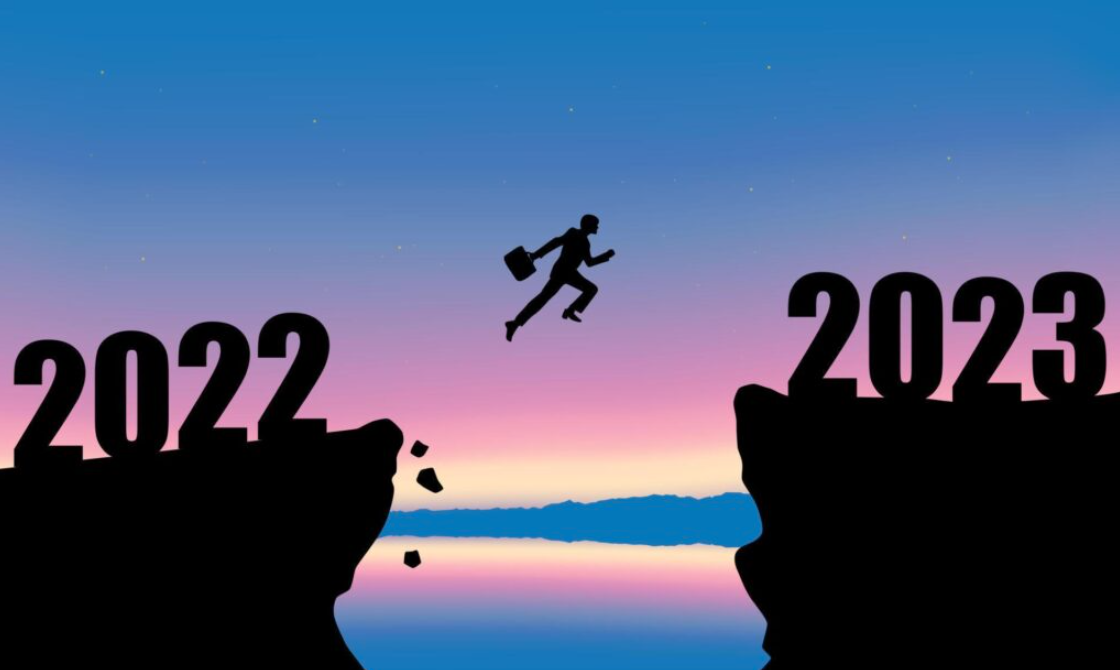 We have selected 10 outstanding projects done by our partners in 2021 and 2022 to say goodbye to this year, to thank you all, and to wish you a very nice 2023 with plenty of projects! 
As Matt Mullenweg said: "Technology is best when it brings people together." And we cannot agree more! This is exactly what we want: to inspire people and bring them together around a table.
The conference room at Prince Mohammad Bin Fahd University in Al Khobar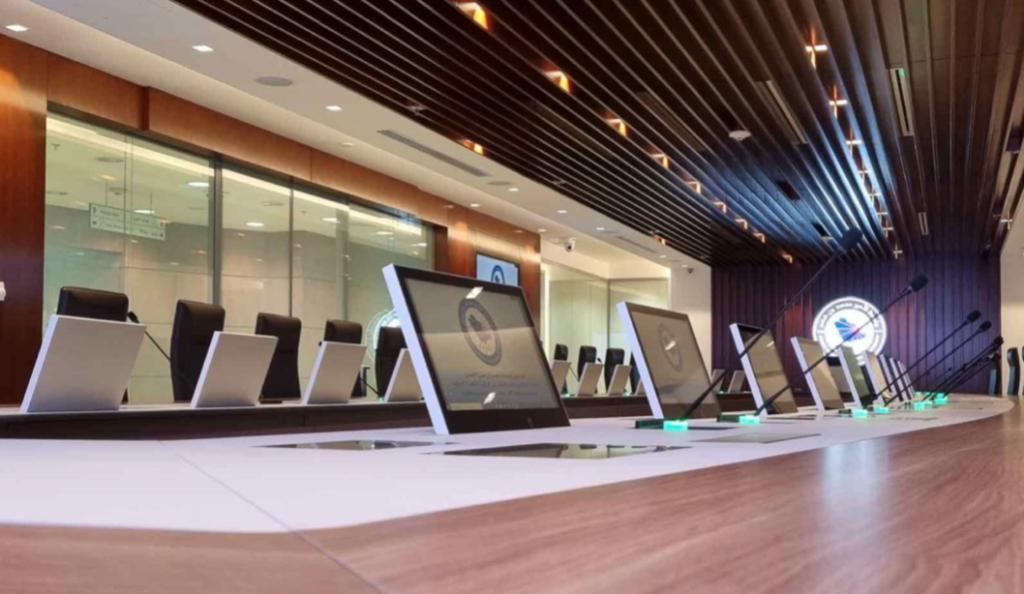 Capturing the spirit of the users and recreating it in every meeting room: This is the very essence of Arthur Holm. The conference room at this Saudi university is a good example: unique, secure, functional, inspiring, automated, flexible and sustainable. This superb audiovisual integration  features Arthur Holm's unique DB2, Dynamic3, DynamicTalk UnderCover, Courtesy Boxes and DynamicChairDisplay.
https://www.arthurholm.com/project/the-conference-room-at-prince-mohammad-bin-fahd-university-in-al-khobar/
The meeting room of the Foundation of Caja de Burgos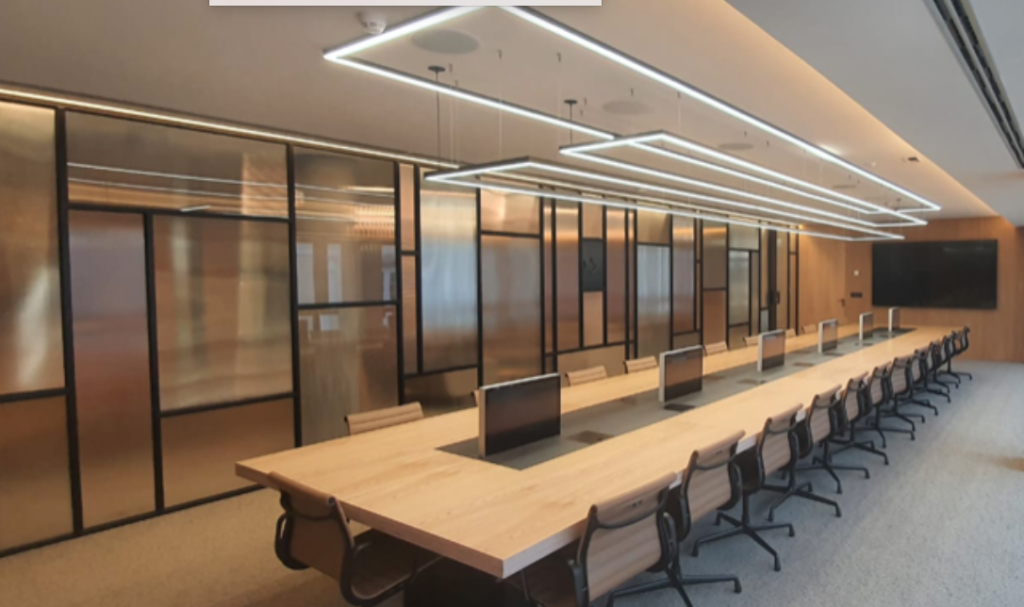 The room's users are always oriented towards the centre of the table, giving a more natural working position that can encourage concentration, collaboration, and engagement. By using retractable monitors, the room gains better flexibility and versatility. In case a greater distance between meeting participants is desired, all that is required is to raise one of every two monitors, and, in the event the monitors were not needed, they would simply remain hidden, allowing the table to be used for other purposes. The DB1Twin provides elegance, style, safety, functionality, versatility, and the utmost respect for the table's design.
https://www.arthurholm.com/project/db1twin-the-retractable-double-sided-monitors-in-the-brand-new-nerve-centre-of-the-fundacion-caja-de-burgos/
The Supreme Court of Nigeria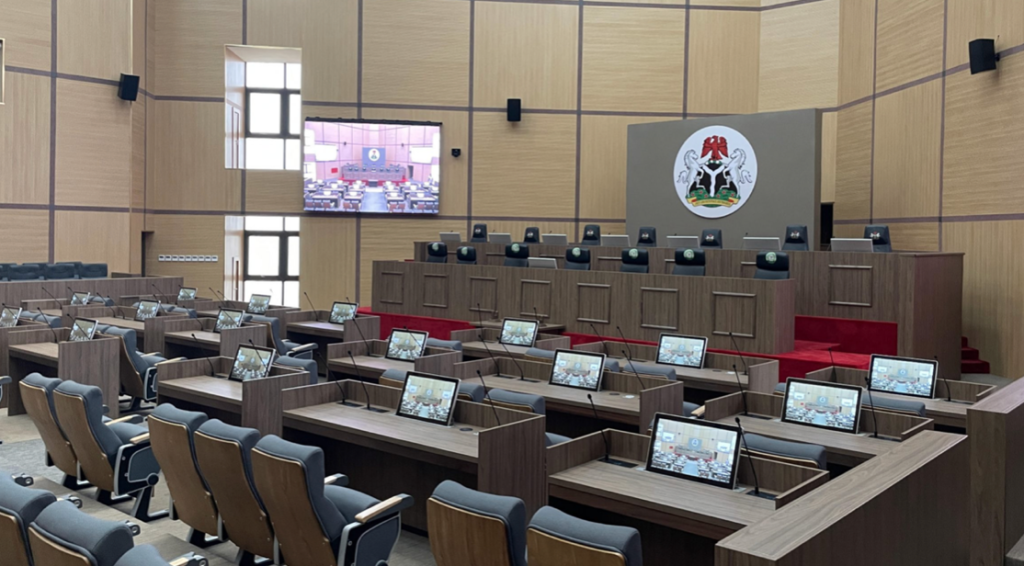 Decision-making in the legal field – whether by judges or a jury – is a highly complex and sensitive process. Lawyers, judges, and jurors need to view and listen to evidence, exhibits and testimonies in document, video, and audio formats, so therefore any audio and video used must be of the highest quality and clarity.
And Arthur Holm solutions can help courts to provide justice efficiently and transparently. The use of motorized monitors allows most trial participants to attend trials remotely, promoting efficiency and cost effectiveness. Remote hearings require audio and video equipment that is reliable, providing maximum quality and security. Space also needs to be maximised, and courtrooms need to be flexible to accommodate a variable number of people.
https://www.arthurholm.com/project/the-supreme-court-of-nigeria-choses-dynamicx2-retractable-monitors-to-help-making-better-decisions/
The AGB Bank in Algiers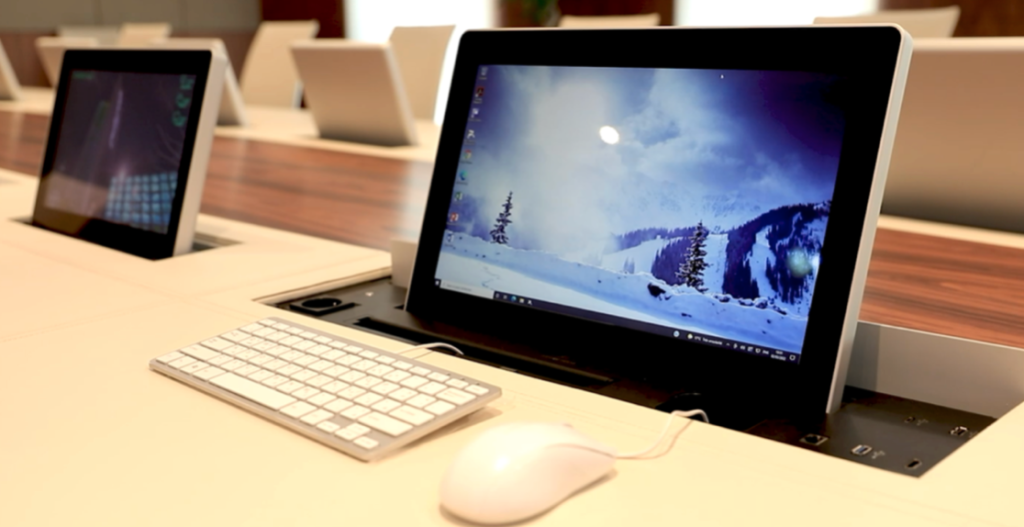 Arthur Holm worked side by side with the system integrator to provide the latest and most suitable technologies for the conference rooms, meeting rooms and auditorium. The end result was the customized design of the DynamicX2-KM monitor, combined with UnderCover and different connections on the front part. Because of this, the monitors, keyboards and all connections were neatly concealed inside the desk when they were not needed, such is the genius of Undercover's solution that's specially designed to ensure the cover can be plywood-laminated with the same material as the table's top.
This makes the technology virtually invisible, and with such flexibility that it appears only when needed. In addition to the keyboard and mouse, the monitors incorporate USB, USB-C and power sockets.
https://www.arthurholm.com/project/custom-dynamicx2-undercover-in-the-new-headquarters-of-the-agb-bank-in-algiers/
The boardroom of AKWA in Casablanca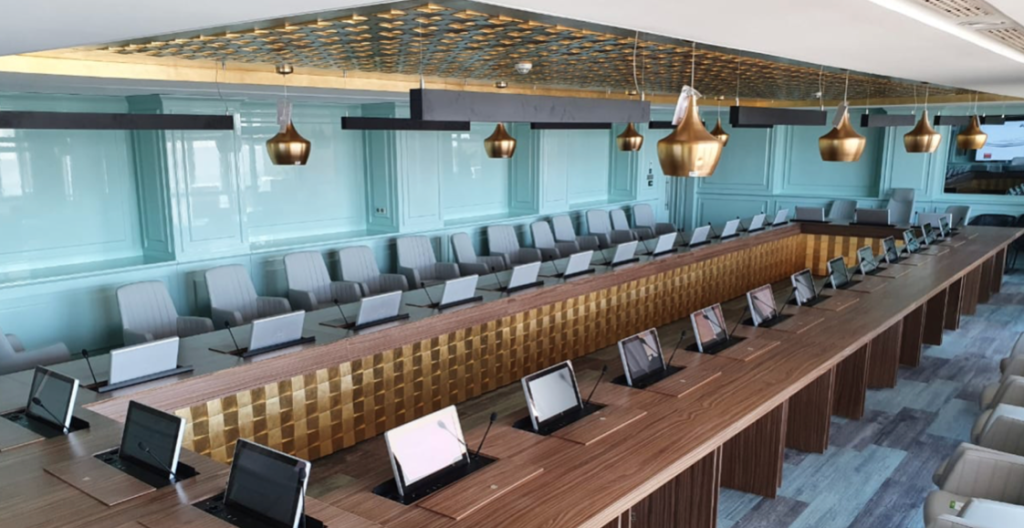 The smart UnderCover solution conceals perfectly the Arthur Holm motorized monitors, DynamicTalk and connectors. Screens, gooseneck microphones and connectors disappear within the table creating a smooth and uniform surface. There is a minimum impact on the table design since the cover is veneered with the same finishing of the furniture.
Flexible spaces, automated technology, invisible integration in boardroom furniture, synchronisation of movements… All these aspects were taken into consideration when Arthur Holm created the patented UnderCover technology.
UnderCover is an ingenious, yet simple solutions made up of an automated cover plate that dissapears within the desk and that has been specially designed for an easy veneer. UnderCover is able to conceal perfectly the complete range of Arthur Holm vertically retractable motorized monitors together with retractable microphones.
https://www.arthurholm.com/project/akwa-in-morocco/
The National Bank of Kuwait headquarters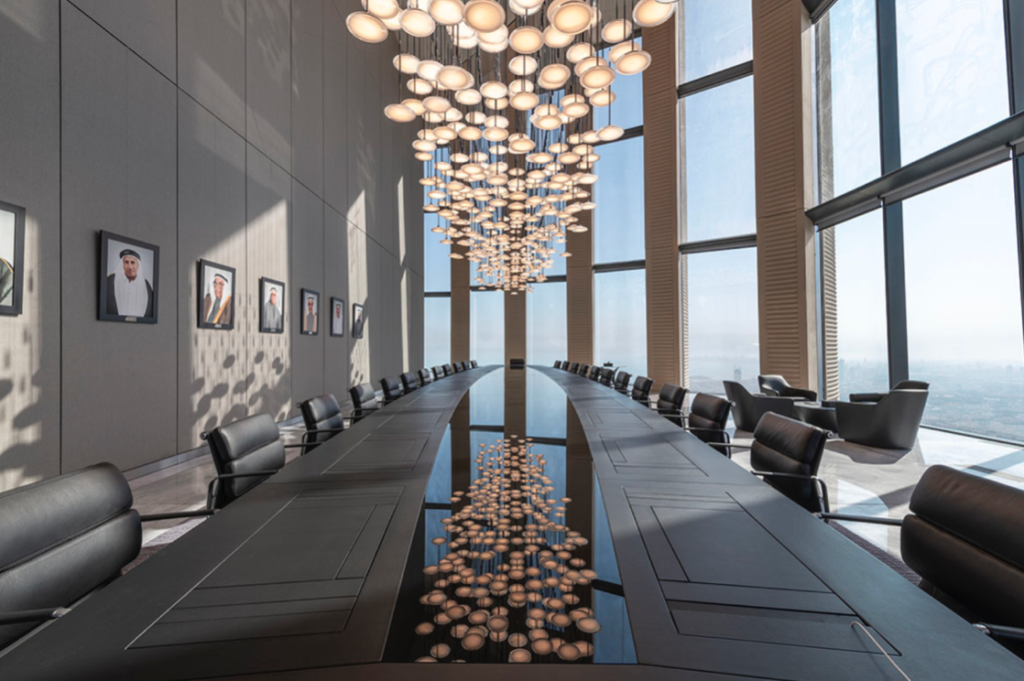 For the unique table created by Foster & Partners, Arthur Holm managed to preserve the distinctive design by providing a compact, motorized monitor, a professional microphone solution and a one-to-one interactive communication platform when needed. At the same time, it was a must that the AV equipment wouldn't be visible or leave any traces when not in use.
https://www.arthurholm.com/project/sustainability-innovation-and-bespoke-outstanding-design-in-the-national-bank-of-kuwait-headquarters/
The Chamber of Representatives in Colombia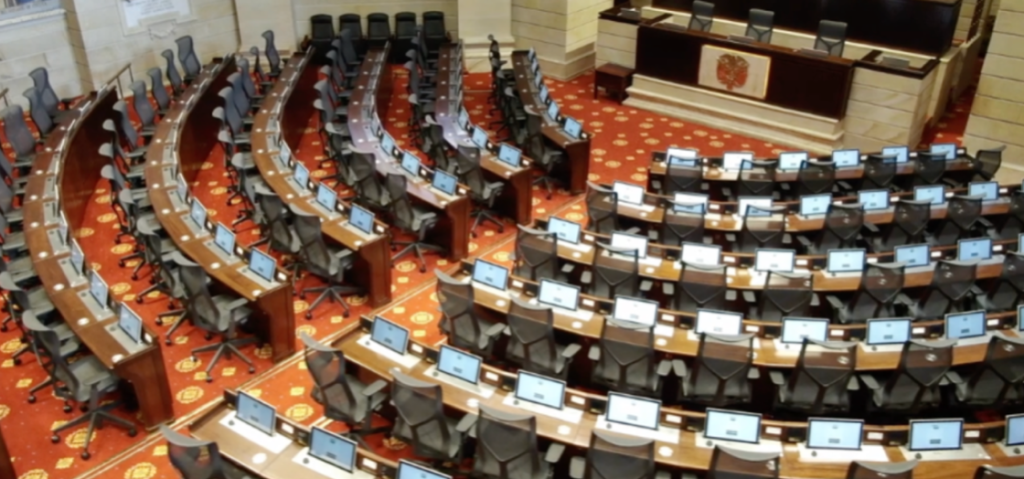 Needless to say, the pandemic's outbreak in 2020 dramatically accelerated the use of hybrid technology, which proved to be crucial to avoid the legislation system's paralysis during lockdown. And this is what the Chamber of Representatives had in mind when decided to renovate this room in 2022.The challenge was to design motorized retractable touch monitors including  retractable microphones, discussion system, biometric identification, voting, documents sharing, and loudspeakers to create a hybrid paperless environment for debate and voting.
https://www.arthurholm.com/project/motorised-interactive-monitors-microphones-and-loudspeakers-guarantee-the-best-decision-making-in-the-chamber-of-representatives-in-colombia/
The meeting room of Orange's new headquarters in Ivory Coast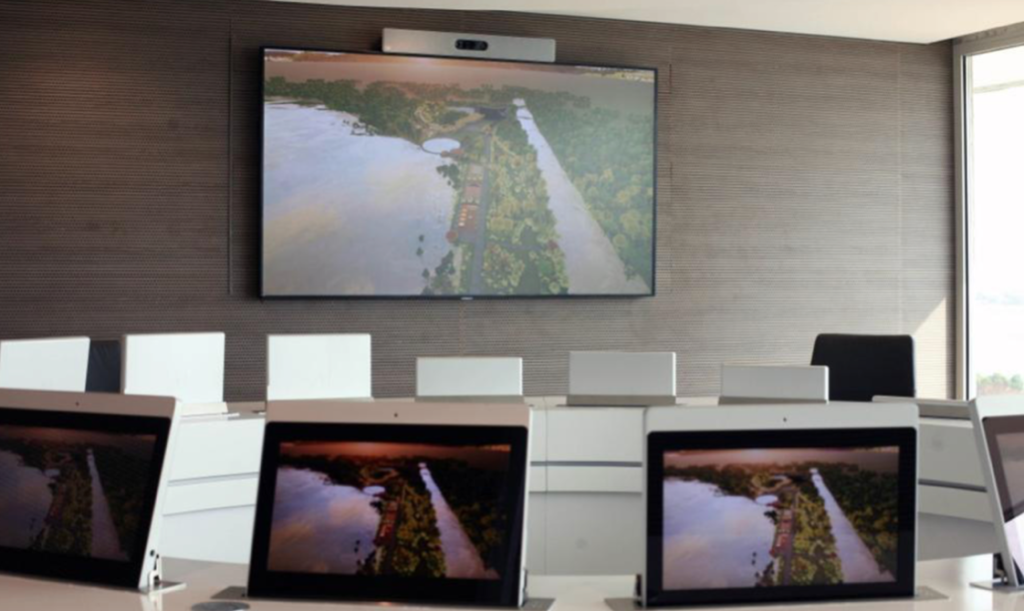 A large circular, white lacquered meeting table presides over the boardroom in Orange's new corporate building in Ivory Coast (Côte d'Ivoire). The table is fitted with 20 DynamicX2 retractable monitors, complete with integrated HD-SDI cameras on top of each screen. These cameras guarantee a superb picture, by image capturing each meeting participant. The monitors have a tilt adjustment system that positions the camera for the perfect angle. They are connected to external video conferencing equipment that manages the SDI signals.
https://www.arthurholm.com/project/dynamicx2-with-integrated-camera-for-enhanced-visual-communication-at-oranges-new-ivory-coast-headquarters/
Beobank's boardroom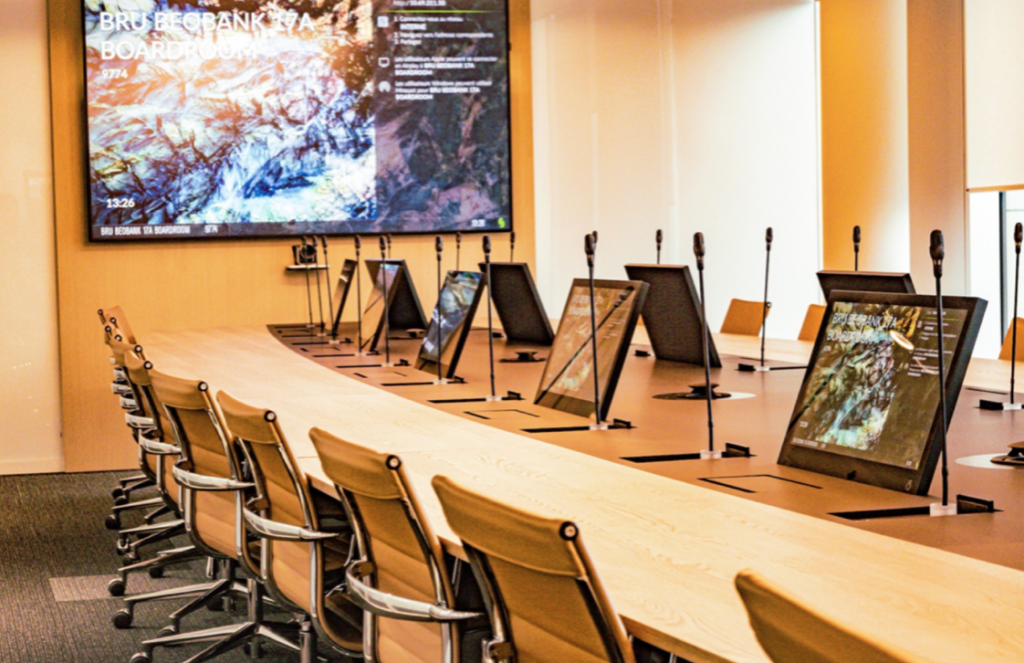 This boardroom is a small technological gem that has enough space to accommodate 26 people. The space itself had to be discreet, distinguished and welcoming, allowing meetings to be flexible enough to host a variable number of attendees. It had to be a room capable of hosting highly demanding meetings and facilitating the best decision making.
https://www.arthurholm.com/project/beobanks-boardroom-a-technological-gem-designed-by-auvicom-and-equipped-with-db2-retractable-monitors-dynamictalk-undercover-and-dynamicspeaker-by-arthur-holm/
KNPC's crisis management room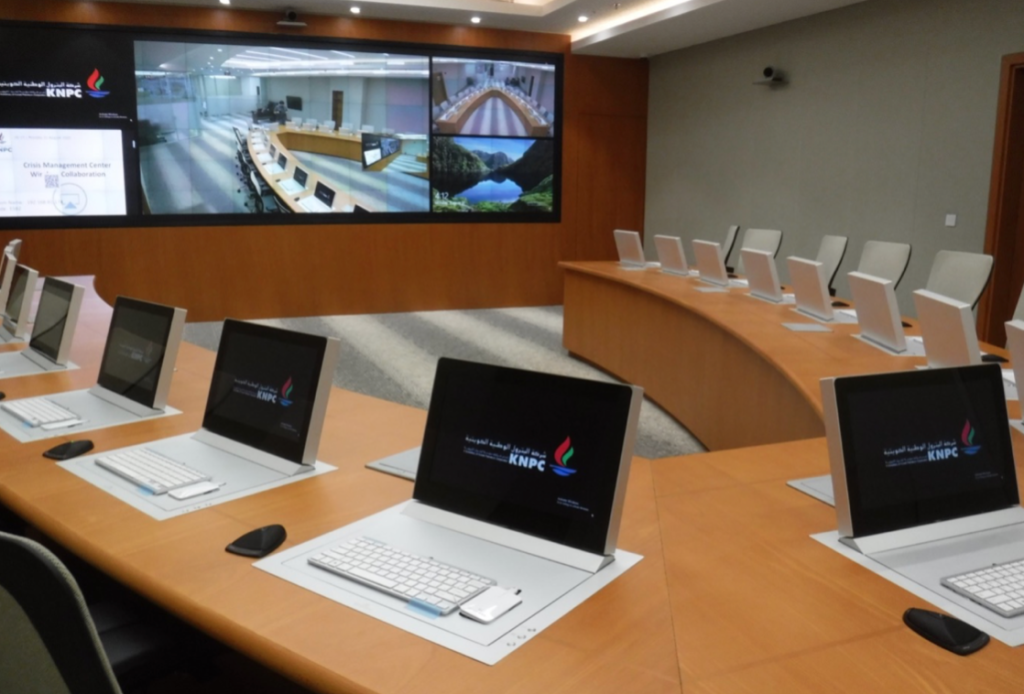 The purpose of a Crisis Management Centre is to accommodate all key people that handle disaster logistics; assessing the risks and resources required, consolidating information, making decisions, and defining the communication strategy. In crisis situations of this scale, gathering information, making decisions, and directing the right responses requires good coordination and, as a result, emergency centres must adapt their approaches, action plans and tools to deal with these new crises quickly and effectively. Technology plays an important role and that's why it is so important to choose the best available for the rooms; secure, flexible, strong and reliable, easy to operate and designed to assist user interaction, at the same time maximising table space and versatility.
https://www.arthurholm.com/project/dynamic3-the-perfect-folding-monitor-for-knpcs-crisis-management-room/
Thank you so much to all partners involved!
We look forward to a 2023 full of peace, happiness, and projects!