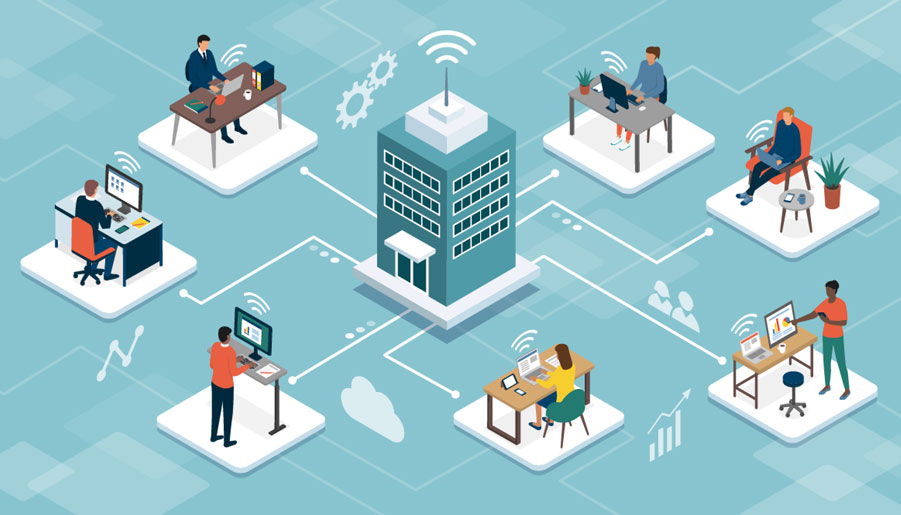 In the first few months of 2020, many of us were forced to work from home just "for a few weeks". But the reality is that, after more than a year and a half, many companies – in almost every sector and of every size – have had to adapt to a hybrid working model: where some employees return to the office and others continue to work from home. Companies realised, inevitably, that they had to allow employees to work from anywhere to stay competitive. Employees were given laptops that allowed this flexibility, and adopted cloud-based technologies, and invested in infrastructures that made it easy to work anytime, anywhere.
The importance of video in staying connected
Working from home brought many benefits, but it also highlighted that physical work environment benefits are difficult to replicate virtually. Employees managed to maintain productivity by working remotely, but the lack of interaction and physical spaces hindered creativity and "camaraderie", and a sense of being part of a team. A big key to staying connected was seeing colleague's faces, and video conferencing became a mainstay of working life. People quickly learned to navigate and use online meeting platforms, and to share screens and presentations. Without a doubt, adaptability and the ability to respond to changes were critical factors in successfully weathering the pandemic.
But despite the use of video solutions, the aspect that workers missed the most was interpersonal collaboration, and the impromptu meetings, the hallway and coffee machine discussions, meeting new people …
AV equipment and employee productivity
AV technology has helped spearhead organisational change and make work environments more adaptable while maintaining productivity. This technology has been crucial in enabling teleworking, and catering for different structural sizes that can be used by varying participants.
Everyone has of course witnessed a boom in the use of applications such as Microsoft Teams, Zoom, Slack, Google Meet, etc. Some of the challenges have been to make the selected platform compatible with the company operating systems, like ensuring a high security level, network speed, synchronicity between physical meeting spaces and virtual tools, and image and sound quality to guarantee smooth communication.
Offices and meeting rooms
In the first year of the pandemic, the focus was on organisations equipping employees with digital tools to allow flexibility while working from home. Now it is the turn of office spaces to build bridges between personal and corporate work teams.
As we have seen "office space" is no longer limited to the office. Business leaders must consider how to equip all employees with the relevant tools they need to collaborate and contribute, regardless of whether they are working from home, on the shop floor, in the office or on the move. The actual physical space of the office and meeting rooms should be sufficiently appealing for employees to want to make the commute there, and include areas for collaboration and focus. Meeting rooms and team culture will need to evolve to allow that all voices are heard, and faces are seen from anywhere.
The challenges of the future
So to sum up, it's fair to say that increased digitisation and automation requires a flexible and independent workforce (one that relies on the possibility of remote working), that offers better productivity, lower costs and improves the ability to adapt to change, but also mindful in trying to reduce the risks of alienation, cultural disruption, lack of motivation, reduced innovation, etc.  
In the past, people's innovation and imagination have driven changes that proved beneficial to employees, the company, and to humanity at large, and new trends in the workplace can create positive wellbeing. The challenge lies in minimising unequal results, ensuring that businesses of any size can benefit, and preparing employees for these changes. AV and IT technologies will continue to play a major role in ensuring both connectivity and motivation for a hybrid workforce, and office and meeting space providers will need to pay close attention to their operation, and monitoring costs, while analysing the ROI and planning future investments.