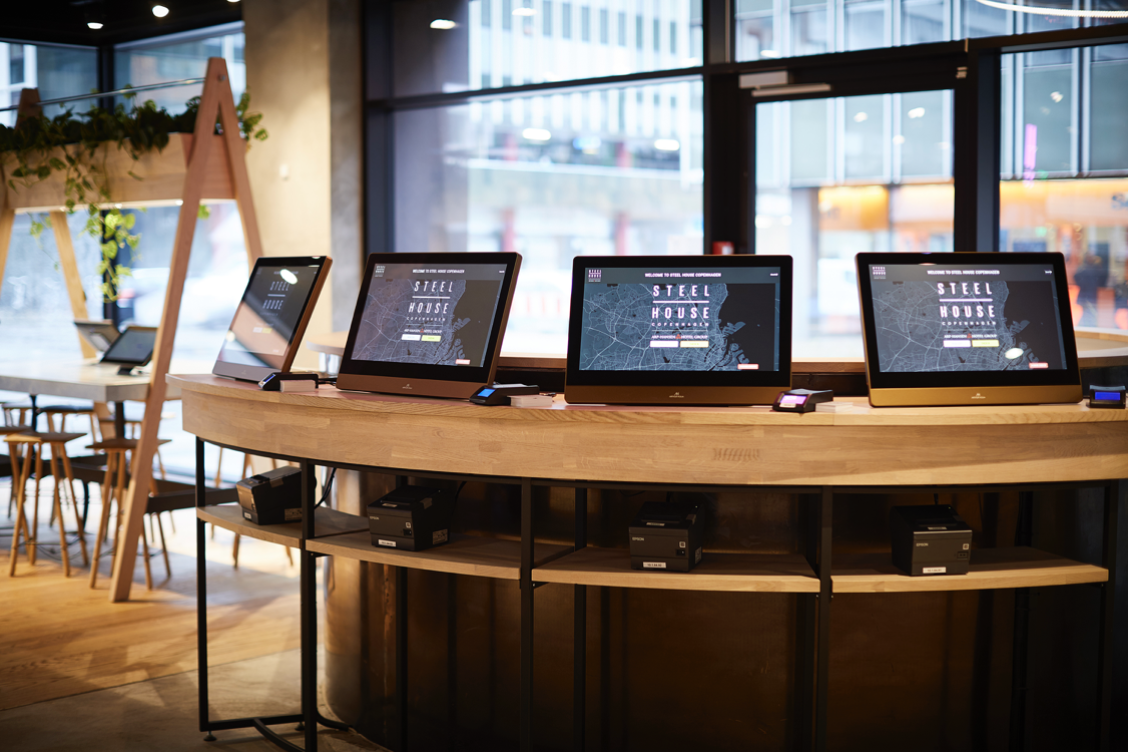 For some time now, the hotel industry has been undergoing a major transformation. Hotels have evolved from being simply a place to lay your head, to being instrumental in creating "experiences" in their own right. The whole user experience, the emotions evoked, and the ability to generate unique and memorable sensations make the difference between one hotel and another. Hotels need to attract visitors by offering exclusive and memorable experiences and therefore the role of technology is critical, especially in the age of Covid, where we need to convince guests that it is worth travelling again.
The healthcare crisis caused by coronavirus has resulted in a major hospitality industry revolution. Faced with the need to offer safe spaces for the traveller, a focus has been placed on technology and, in this sense, the concept of a more digitalised hotel model has been developed, and truly connected to the guest. We could speak about concepts such as augmented reality, artificial intelligence, mobile phone check-in systems, voice control, facial recognition, applications for guests, big data, … But, in reality, it would be difficult to distinguish which trends are here to stay and which are just marketing gimmicks. However, there is one indisputable fact; that technology can be a deciding factor in any hotel design. It's all about choosing the right equipment.
The right hardware elements are essential to any hospitality project as they contribute significantly to the transformation of the ambiance, and have a direct impact on the interior design of any space in the hotel, especially the reception, entrance lobbies, front desks, work areas and meeting rooms.
Travellers are looking for places that are original, unique, genuine, and that convey values that resonate with their beliefs. Places that fit their life philosophy; that make them feel special and unique, that allow them to interact with like minded souls, that are comfortable and with a strong visual impact; the Wow Factor. They are, without a doubt, looking for the ultimate experience.
Oscar Wilde said: "There is no second chance to make a good first impression". And this is especially true in the case of hotels. The lobby is almost like the heart; the most used space by the client, the one that welcomes and also bids farewell. It is a key space that the client will use to rest, wait, work and socialise.
The hotelier must maximise the possibilities, and take advantage of this space to communicate the establishment's values, personality, and mission.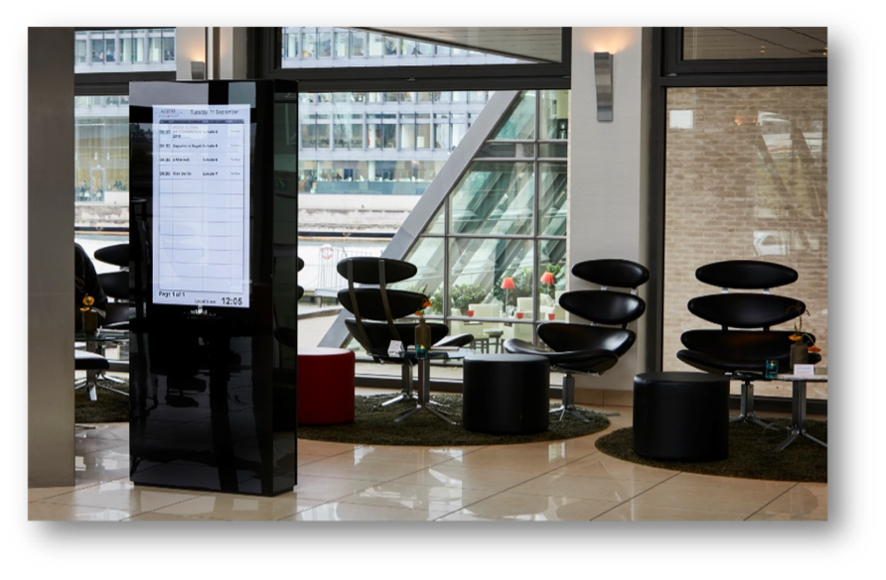 As far as technology goes it must be both elegant and durable, and personalised by integrating the hotel's brand and logo, as well as providing relevant information for the guest: from details about the hotel's services, calendar of events and emergency messages, to solutions that streamline the hotel's processes such as "check-in/check-out".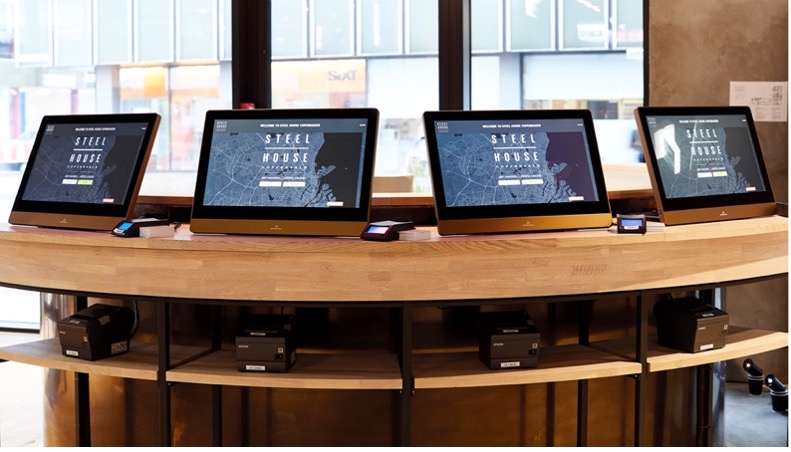 Designs should incorporate the self-service concept: speed, efficiency, and interaction. And, also use customised equipment that communicates professionalism, emotion and commitment to the interior design.
The Reception Desk: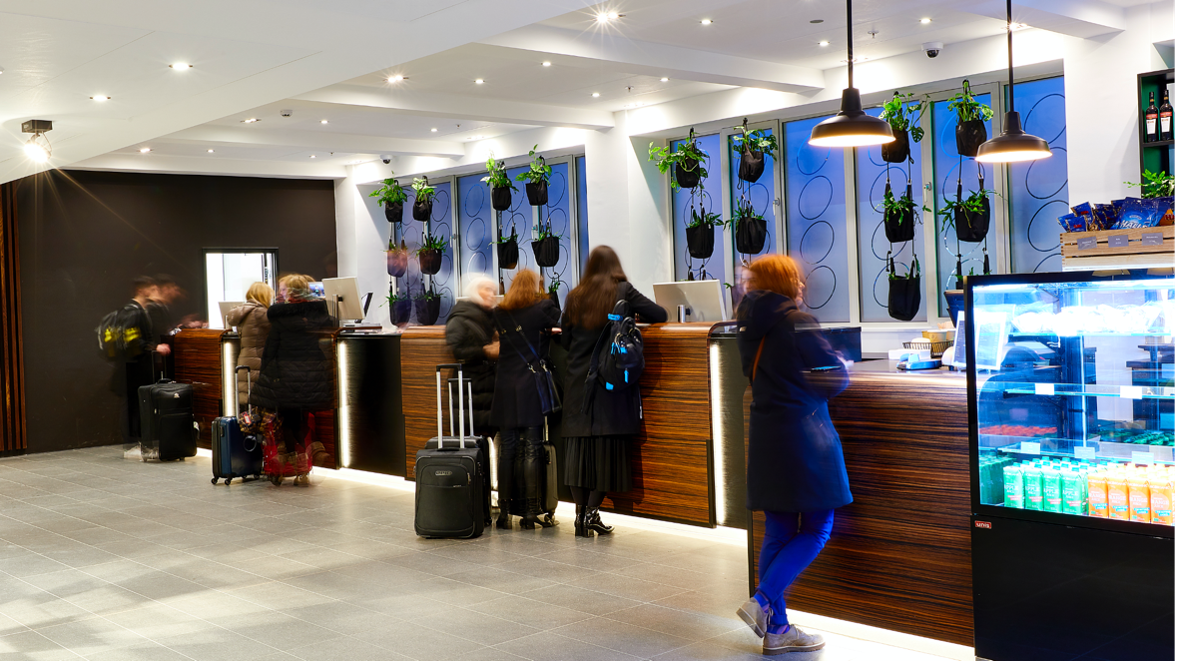 The hotel's reception desk is also an extremely important focal point in the service-client relationship, since it is usually the first port of call when the guest arrives. This is the reason why its design should, at first glance, reflect the corporate spirit, and with space that's revealed which unfolds before the traveller. The monitors must be specially designed for this purpose and display the hotel's brand and values.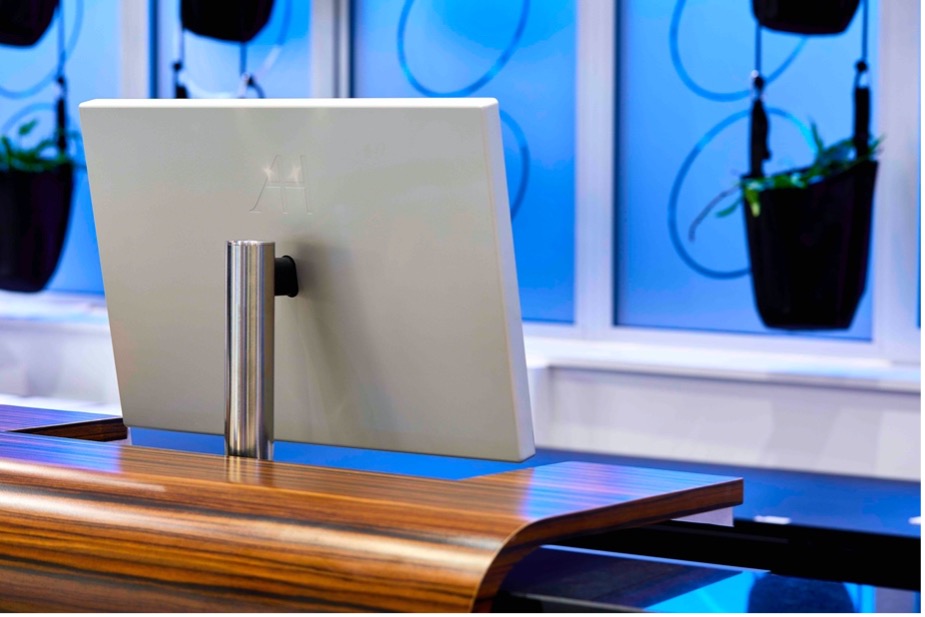 They should be beautiful from every angle, adjustable in height, ergonomic and avoid mess like
cable clutter. 
By using height-adjustable motorised monitors flexibility is ensured, and an ergonomic design conveys order, tidiness, efficiency and professionalism at work, and in the way clients are treated.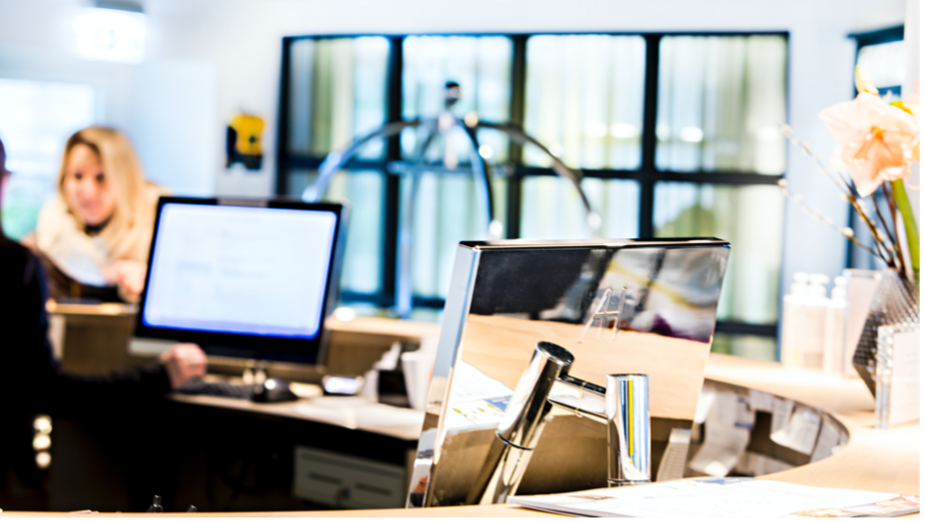 The Business Center:
Business centre design has also experienced radical changes. They have gone from being isolated spaces tucked away, to being integrated into other spaces such as in lobbies.
The Business Centre is the result of combining material and human resources, with the aim of maximising users' business activity while providing internet access and computer applications. The fact is that hotels are adapting business centres to the needs of today's travellers. Additional services are provided, like the installation of wireless printers or offering more comfortable furniture characterised in environments similar to coffee areas, with the aim of making travellers feel like they are in lounges rather than offices.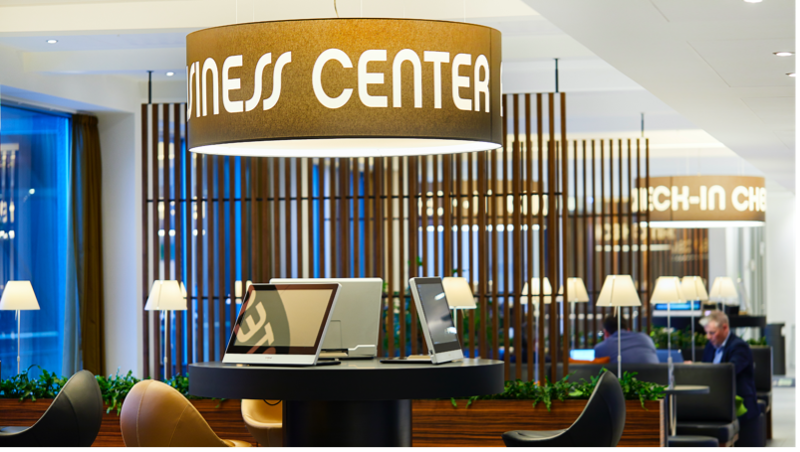 And again, it is important to use monitors larger than the customers' tablets or laptops to offer better visual comfort. Compatibility with other devices is a must, as is the need to equip desks with power sockets and charging systems for mobile phones and laptops.
Digital Signage: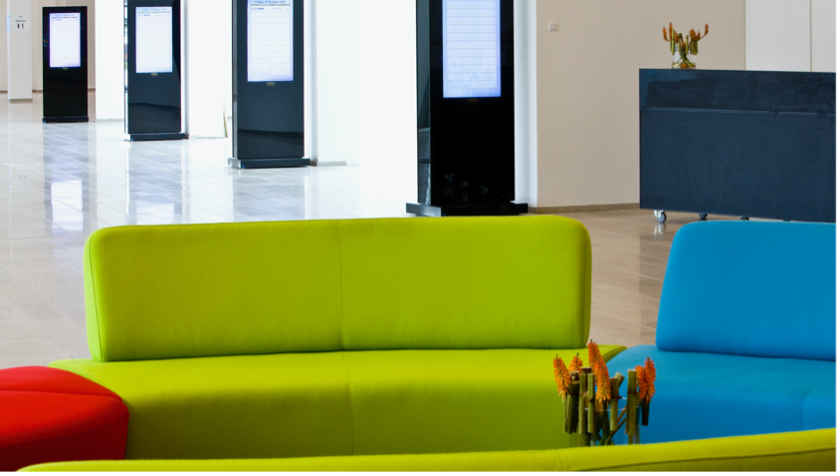 Continuing with the "experience" generation, digital signage undoubtedly plays an important role. And it is much more than just a series of monitors hanging on the wall. From totem poles, to embedded displays and interactive information points, they all need to be specially designed to enhance the architectural and interior design. They should follow the same style and be made of durable and sustainable materials. They will be ever-present: in the lobby, lift, corridors and even at the meeting rooms' entrance.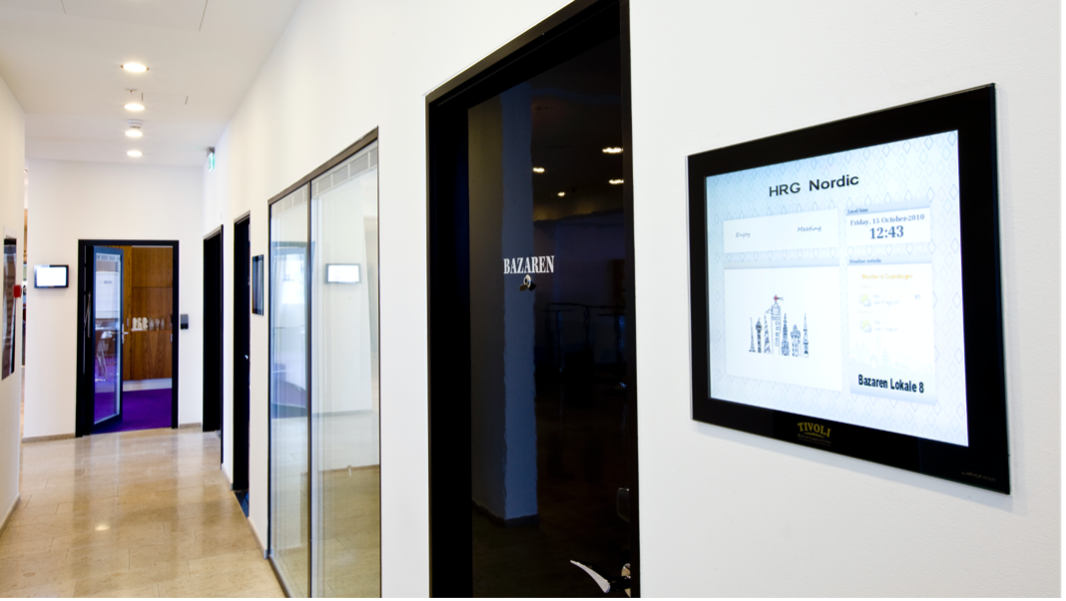 Timelessness of design, with functionality, durability and material quality will be key factors. And in the case of totems and kiosks: interactivity and portability.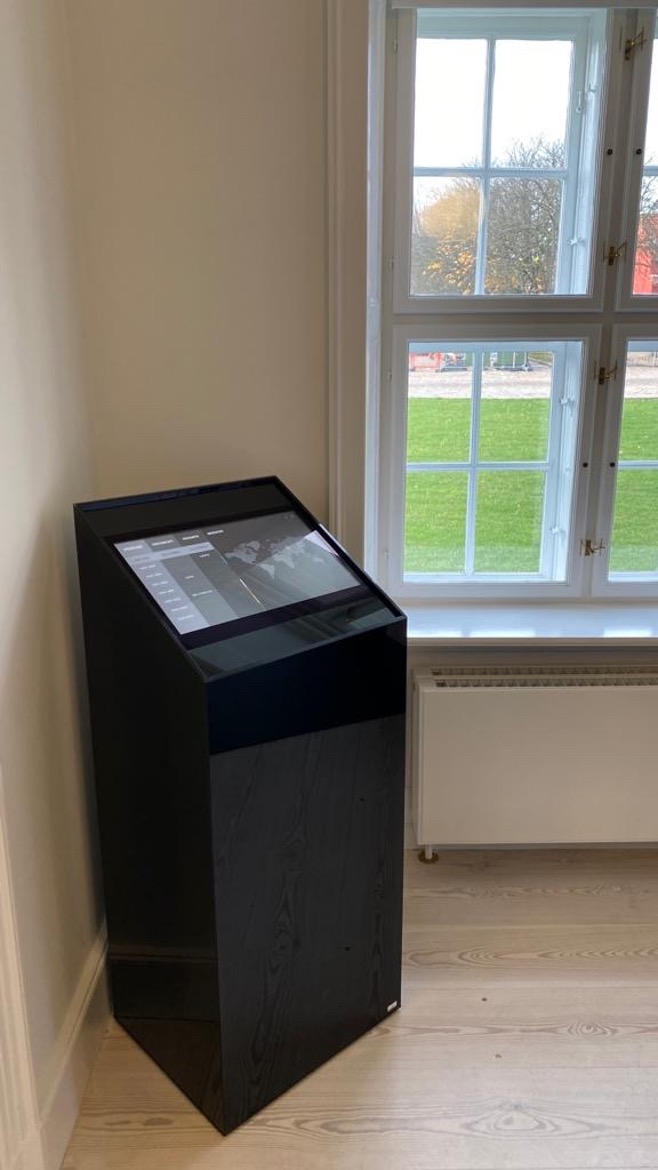 The Meeting Room: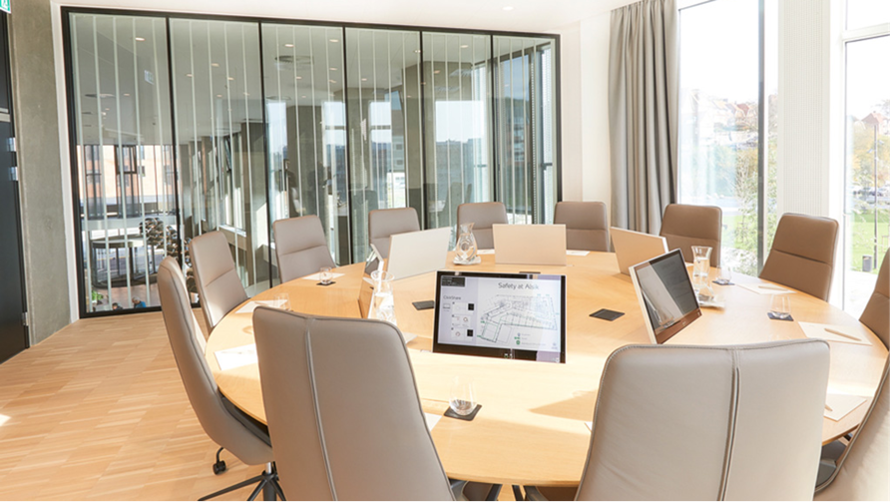 A meeting room should be secure, flexible, inspiring, and compatible, with other equipment. It should be able to change its layout, features and functionality at a moment's notice. Ideally it should be an open, accessible, versatile, and sustainable space that encourages participation, networking, concentration and creativity.
Meeting rooms and conference spaces should promote spontaneous human interaction as well as encourage private moments of reflection.
And in hotels, these rooms are hired out to companies and work teams, so they must be equipped with the very best technology. If this technology appears only when needed and is perfectly integrated into the furniture design, It doesn't get any better! You have the ideal combination.
For more information, please attend our webinar, click on the link below: